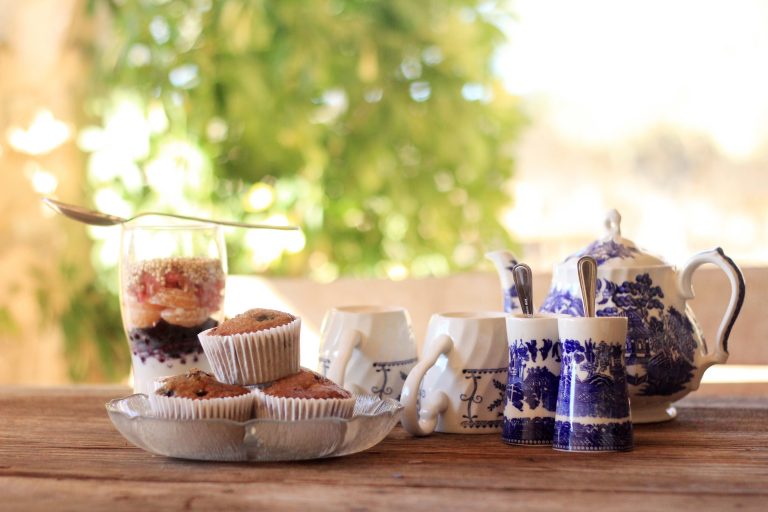 As you all know, I'm taking Frassy in a series of new directions in 2014. My main focus will still be personal style, but I am aiming to incorporate new lifestyle topics to create a more rounded & more interesting Frassy! So say hello to my first new segment – recipes/food. Like most human beings, I love food but what I really love is quality, healthy food. I was a little late in the culinary game, its only been in the last year that I've really grown to love the kitchen. My focus will be sharing my healthiest recipes with you – nourishing but delicious food. I don't count calories, ever, what I focus is on staying away from all the chemical laden, preservative pumped junk that fills the supermarkets these day. And so as today marks my first ever food post – I thought I'd start with the first meal of the day, a fibre loaded, super yummy breakfast idea. Blueberry Oat Muffins & a Fruit Layer Cup.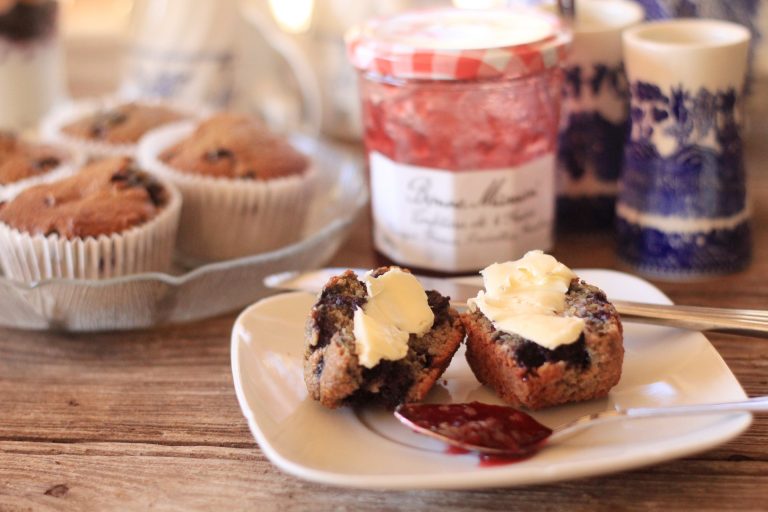 I don't usually have much time to prepare breakfast in the morning, but you can whip up a batch of these blueberry oat muffins the night before and eat them for breakfast all week. Each muffin only has 12o calories – and the primary ingredients are oats and blueberries! You'll only need one per morning, believe me when I say they are super filling!
INGREDIENTS: 350 grams of Quaker Oats, 230 grams of Almond Milk, 120 grams of brown sugar, 2 tablespoons of agave (or honey), 120 grams of Apple Sauce, 2 egg whites, 1 tablespoon of oil, 1 tablespoon of Vanilla Extract, 120 grams of whole wheat flour, 1 teaspoon of baking powder, 1/2 teaspoon of baking soda, 1/2 teaspoon of salt, 230 grams of blueberries (frozen or fresh). You will also need a baking tray and muffin cases!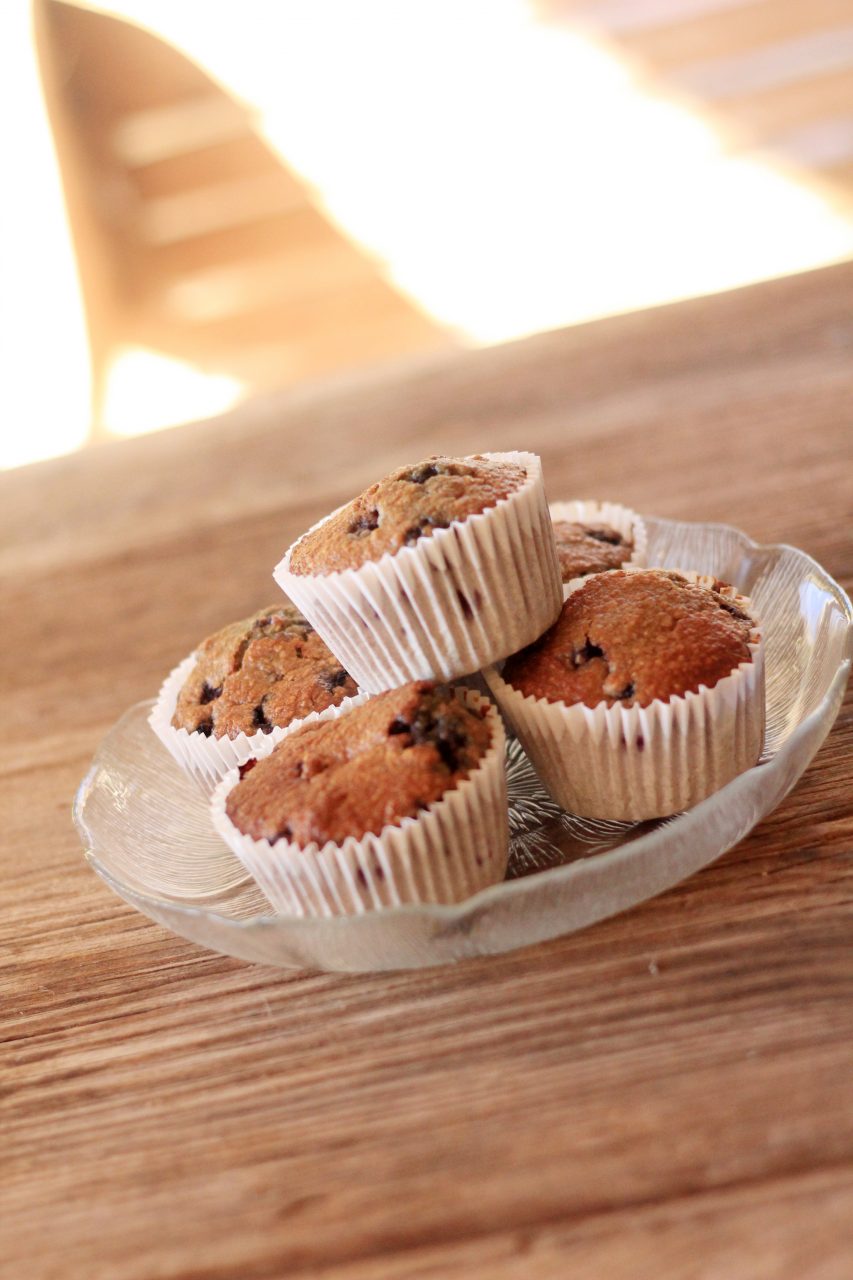 DIRECTIONS: Place oats in a food processor or chopper and pulse a few times. Soak oats in milk for about 30 minutes. In a medium bowl combine brown sugar, agave, apple sauce, vanilla, egg whites, oil and mix well. In a third bowl combine whole wheat flour, salt, baking powder, baking soda and whisk to combine. Combine oats and milk with sugar/applesauce mixture and mix well. Slowly add in the dry ingredients and mix until just incorporated. Fold in blueberries. Spoon into the muffin tin and bake for 22-24 minutes.
SERVE: With thick lashings of butter and a good quality jam. One of these fibre packed babies will last you till lunchtime. A tea of some sort is essential too, I like green or a spicy cinnamon with lots of milk.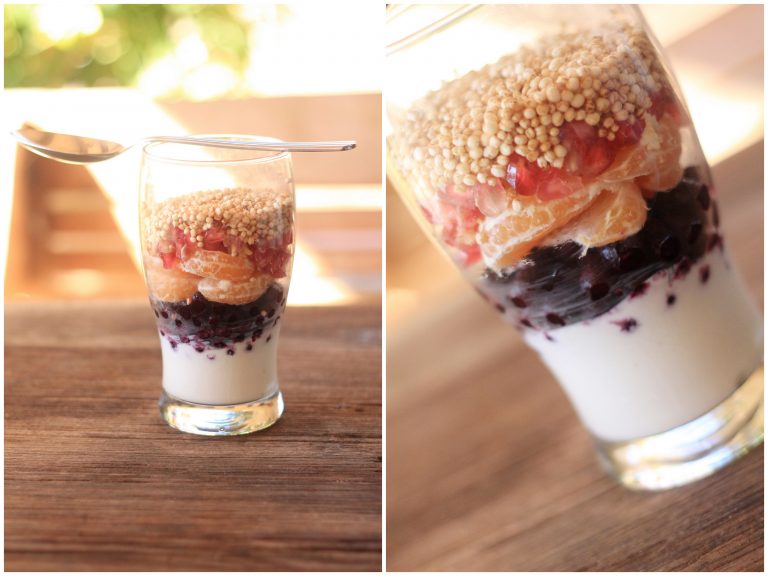 Fruit Layer Cups are so simple to make and so delicious to eat. This particular version is one of my faves – start with a creamy greek yoghurt, top with blueberries, peeled orange slices & pomegranate. Sprinkle a generous amount of puffed quinoa on top for a delish crunch!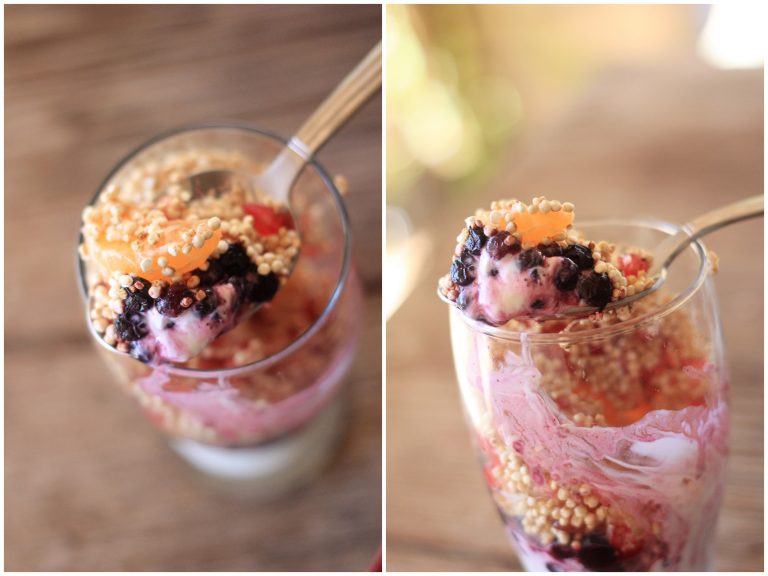 Best part is all the different layers- look at that, its like a fruit swirl sundae! I usually make one big one of these to share between two. Preparation time is literally about 5 minutes. By the time your tea has boiled and steeped, your fruit cup will be done, I promise. Plus this is just beyond healthy, and you can mix up fruit ingredients depending on what is in season.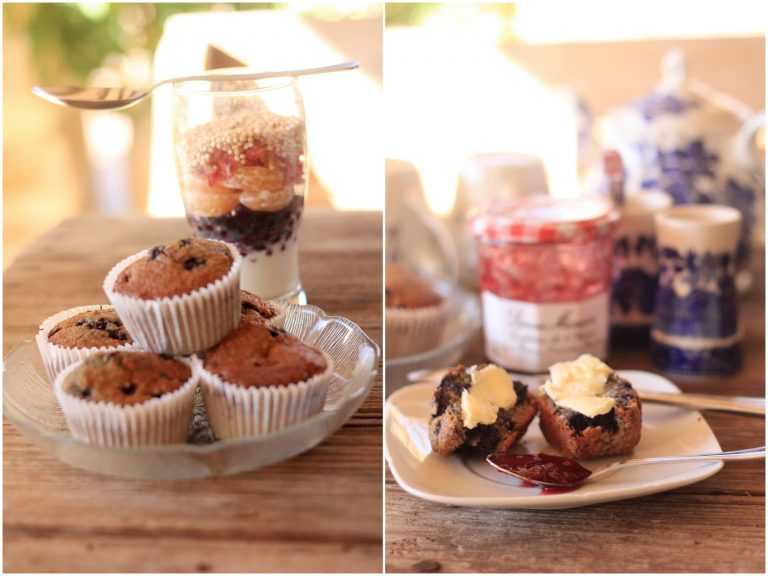 And there you have it – a hearty, robust start to the day. Fruit packed and it sure does beat grabbing an apple as you run out the door (something we all probably do far too often)