It's so natural for a woman to open up her mirror and apply lipstick.
A couple weeks ago, I had some time to kill between meetings and found myself sipping a cappuccino dangerously close to Benefit's boutique in Paris. The shop front is so pretty, I couldn't help but go in for a browse. Ofcourse, I didn't leave empty-handed, but rather 60 euros poorer with 3 new lipsticks. A year ago I never could have justified spending that much on makeup – but if I have learnt anything at 26, it's this, your face is precious and the products you smear all over it, well they should be too. I rarely wear eyeshadow, I don't do anything at all to my eyebrows, I have no idea how contouring works – so really a lipstick is about as fancy as I get when it comes to makeup. That and mascara, but I'll save my adoration for Benefit's They're Real for another time…

Benefit offers their lipsticks in 3 different coverages, sheer, medium & medium full – I went for one of each. They are glossy but too shiny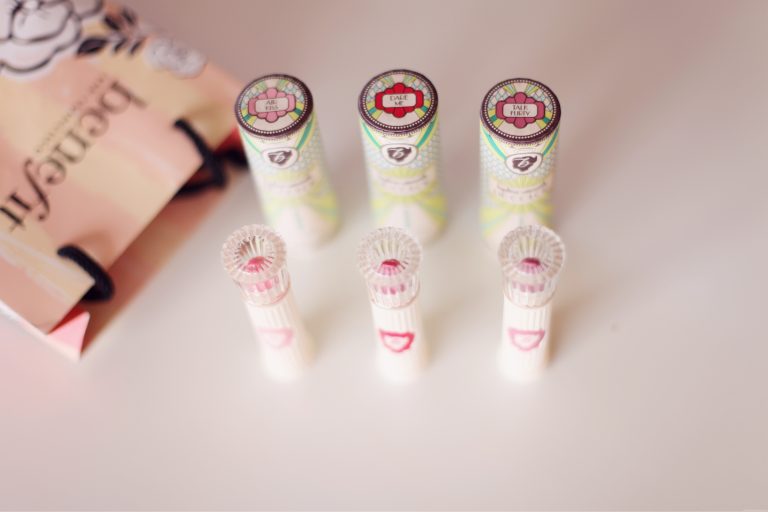 my featured 3 are: air kiss, dare me & talk flirty – what adorable names & the packaging too, irresistible & such pretty features on my vanity
Dare Me red is probably the one I have used most, it's a classic rouge but not super bold- perfect when I want to look pulled together but don't really have the time (or energy) to do anything drastic. I always started applying Air Kiss, which is a very sheer, barely there pink on top of my matt nude lipsticks to add a hint of shine. Talk Flirty doesn't really match my skin tone right now, it's far more flattering with a tan, so I am saving that one for next summer! I'd def. recommend Dare Me & Talk Flirty, and while you can shop the shades online, if I were you, I'd wait and go into a Benefit boutique – they are heavenly, pink & mint green decor and the women are so happy and helpful! As you know, I'm a novice when it comes to beauty blogging, I have a passion for quality but there is still so much for me to learn. Any lipsticks out there you love? Have you tried Benefit's Hydra Lip Colours? Do you prefer matt or shine? So many questions, I'd love to hear your thoughts girls!