Every book you read becomes a new room in your head – and I want to live in a mansion of people, universes, centuries, and phrases. There's an air about someone who's gallivanted, joyously, through a library in their early years that I revere – far more than I revere someone who has travelled the world, been born beautiful or wears an expensive coat.
I invest far more money and time on what's on my bookshelf than what's in my closet. In fact, as a full-time, 'fashion blogger' (that title makes me cringe just a little) I am inundated with free clothes. And they are pretty, but off they go into my drawers and behind wardrobe doors. My books are all lined up, everywhere on every shelf I have – they are on display. Sure I love a pair of Louboutins as much as the next girl, but they don't impress me. What impresses me is a book collection, carefully curated over the years – and a quick scan of someone's books will express far about them than the clothes on their body. And when I walk into someone's house and they have no books, except maybe a coffee table bargain buy about Marilyn Monroe. Oh dear, I leave immediately.
I once had a boyfriend who only had one book, and it was one I gave him. It really bothered me, and when we broke up, it was all I could think about – that one lonely book and his big huge brain with nothing but his tumblr & his television. I'm not religious, but I have an almost spiritual enthusiasm for literature. And just like going to the gym, or brushing my teeth – reading is something I must do everyday. I am asked so often by you which books I'm reading – and so as part of my personal diary, I thought I'd share my essential reads. Ones that made me cry, laugh, changed my life in that tiny ticking way only a book can – books that have really meant something to me. Now, this was incredibly difficult. I hate choosing favourites, that's why my favourite colour is 'rainbow'. There are so so many books, of all kinds, I really want to reccomend to you, but there isn't the space or time. So I will start with these.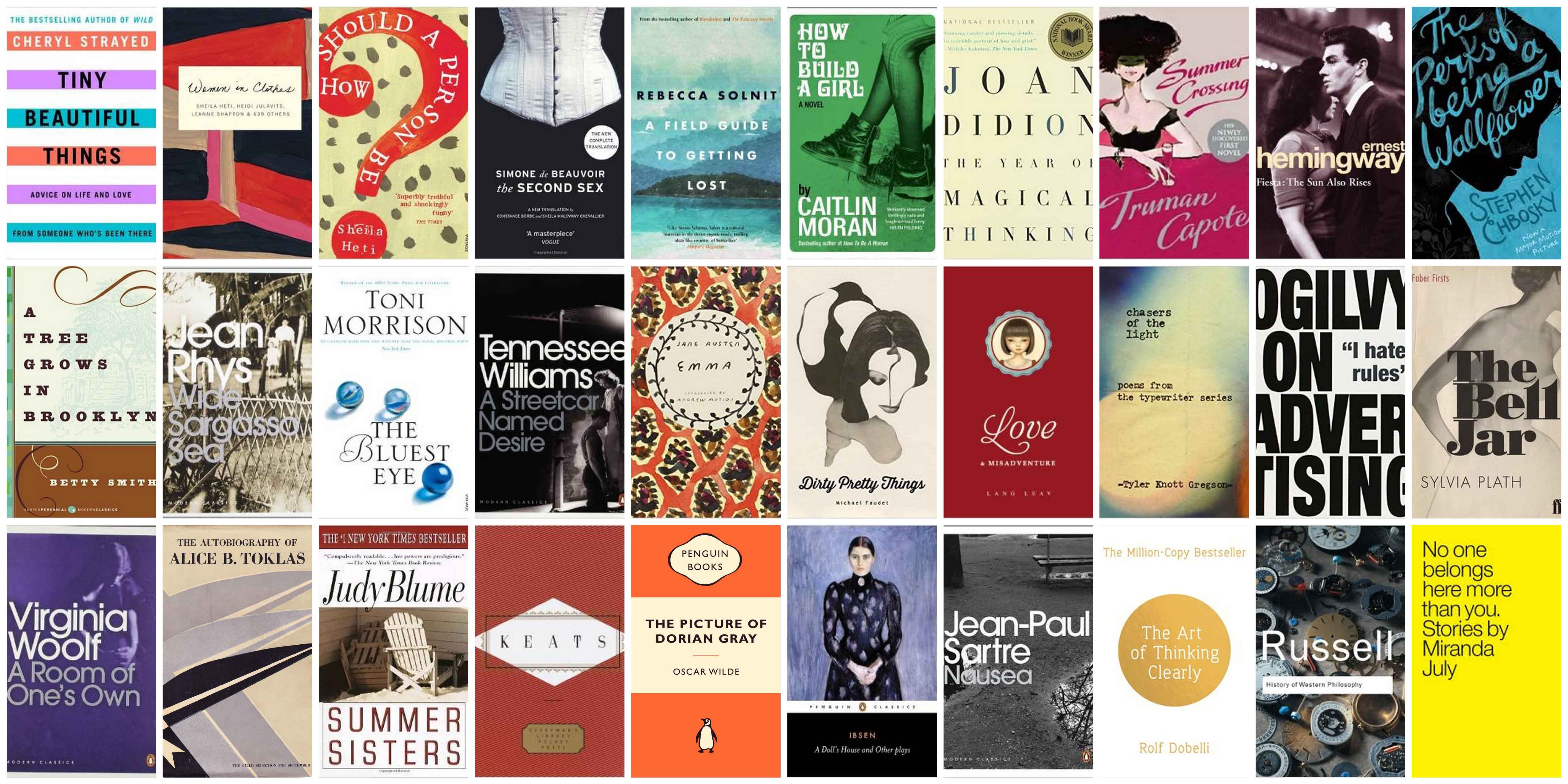 my top 30 books:
Tiny Beautiful Things by Cheryl Strayed, Women in Clothes by Heidi Julavits, How Should A Person Be? by Sheila Heiti, The Second Sex by Simone de Beauvoir, A Field Guide to Getting Lost by Rebecca Solnit, How to Build a Girl by Caitlin Moran, The Year of Magical Thinking by Joan Didion, Summer Crossing by Truman Capote, Fiesta: The Sun Also Rises by Ernest Hemingway, The Perks of Being a Wallflower By Stephen Chbosky, A Tree Grows in Brooklyn by Betty Smith, Wide Sargasso Sea by Jean Rhys, The Bluest Eye by Toni Morrison, A Streetcar named Desire by Tennessee Williams, Emma by Jane Austen, Dirty Pretty Things by Michael Faudet, Love & Misadventure by Lang Leav, Chasers of The Light by Tyler Knott Gregson, On Advertising by David Oglivy, The Bell Jar by Sylvia Plath, A Room of Own's One by Virginia Woolf, The Autobiography by Alice B. Toklas by Gertrude Stein, Summer Sisters by Judy Blume, Everyman's Keats Poetry by John Keats, The Picture of Dorian Grey by Oscar Wilde, A Dollhouse & Other Plays by Henrik Ibsen, Nausea by Jean Paul Sartre, The Art of Thinking Clearly by Rolf Dobelli, History of Western Philosophy by Bertrand Russel & No One Belongs Here More Than You by Miranda July
---
some book buying advice:
Books aren't cheap, a paperback at my favourite bookstores in Paris or Barcelona is about 18 euros. If you read a lot, it can get expensive. Sadly, as an expat, I don't have access to a public library and so much of my life is already digital, I cannot bring myself to buy a kindle. I like to have real copies I can hold in my hands, that I can annotate, write notes in, throw in my bag and beat the hell out of. Obviously, Amazon's prices are pretty reasonable, but I also really love to buy used books on Ebay. I'll compare the prices on both and then buy the cheapest. I often get books for a euro or less via auctions and the 'buy it now' option on Ebay. They are slightly used, but having a book that has already been read by someone, it feels kind of special to me. If you live in the USA, another great place is Thrift Books, where most titles are 4 dollars or less. I also subscribe to Audible.com, so I can listen to books too – this is an entirely different experience to reading, but lovely all the same. I'll use Audible when I'm cleaning the house, photo editing, running errands etc – it's a good way to get in your 'book time' when you physically actually cannot be reading. Finally, I used to do this with some of my friends at University – make a book list together – split it down the half, so each of you buy half of the books. After you have both read them all, you each keep the ones you like the most. It's really fun too because you can discuss the books together as you read them.