the fake tan routine I have perfected over the years. natural & so easy.
I tend to prefer a natural look when it comes to beauty – and that extends right into my love for a good tan. Living in Spain and with the sun in full summer swing, I do sunbathe (perhaps excessively) but sometimes enhance my sunkissed skin with fake tan. I fake tan all year long – meaning I am usually quite brown, as you may or may have not noticed. Now with it being summer, I don't undergo this tan regime as diligently due to being outside and on the beach etc – there is no need. But I know a great deal of you don't live somewhere as warm as I do – and this is a routine I have seriously perfected over the years. It's taken me over a decade to conquer fake tan – I've had orange skin, patchy brown flaky limbs and all kinds of other terrible accidents that left me looking worse than before application. And so I thought I'd share my regime, the products I absolutely 100% live by and hopefully help you get a tan whether you live in England, Poland or Paris. It isn't always sunny but with the right products and the right habits, you really can be tan all year round. I promise and I hope this helps you!
---
1. exfoliate
go hard – scrub in circular motions – be thorough – scrub everywhere
---

Now I cannot emphasize this step sufficiently. If you don't scrub all your dead skin away, the fake tan will cling to these particles and you will be shedding brown flakes like dust. Go hard – I like to leave my skin just a little bit rouged and raw – and be thorough – neck, behind your ears, ankles and pay special attention to areas like your knees, elbows and face. I like to you both a dry body brush as well as exfoliating gloves – I'll give myself a once over with the brush and then go in with the gloves over my face, legs and arms. Massage and exfoliate in circular motions. I prefer to do this in the shower – meaning my skin will be clean and scrubbed, allowing pristine pores for the fake tan to soak into. This will ensure your fake tan lasts a whole lot longer but also when it does start to fade, it will do just that, fade unnoticeably and not flake or streak in those awful ways that fake tan so often can. Now you can use coarse sea salt or even sand collected from the beach – however I prefer He-Shi's Exfoliating Bodywash – it's easy, efficient and really polishes my skin just right.
---
2. application
apply carefully in circular motions, build in layers, reapply every 48 hours
---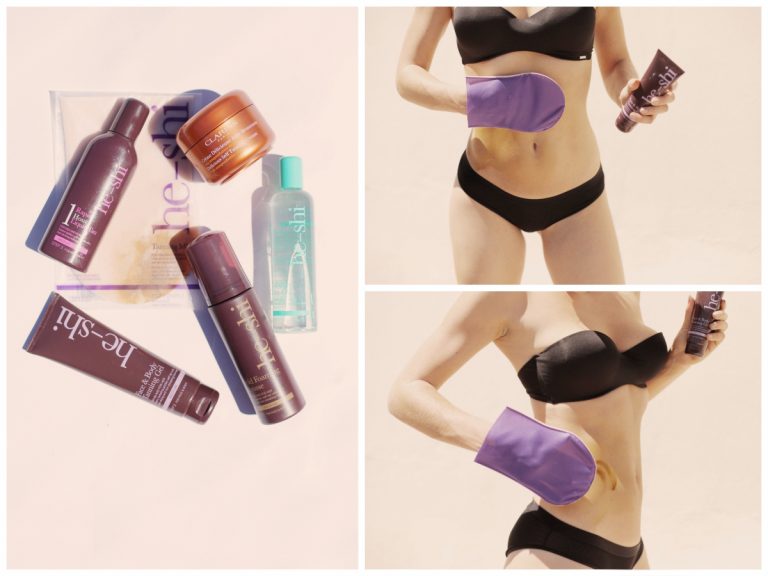 This is where so many women go wrong, me especially. It took years for me to get this right, which is ridiculous really as the method I use now is so simple. Firstly, invest in a tanning mitt – do not use your bare hands, ever! No matter how rigorously you wash them after application, fake tan will appear in spots and streaks all over your hands the next day. And it looks downright weird, I have had people point at my fingers and ask what went wrong. A mitt will cost only a couple euros, buy one! Again, I use He-Shi's mitt – there is nothing exceptional about this one, just an easy one to buy as I swear by He-Shi products so always include one in my shopping basket when I am stocking up on products. Apply product in circular motions, do not ever streak the product down your skin – this will result in lines and a blocked tan that always looks fake. Fake tan should never look fake! Keep circuling the product down your body, I prefer to start at the top with my arms and work my way down all the way to my feet. And don't overlook your feet, nothing looks stranger than tanned limbs and very white feet! Now, I prefer to build the product one, applying in coats – this helps the tan absorb better. So avoid squeezing out large quantities – it will look messy after drying. Use product lightly and in layers. I have a fairly complicated sequence of products I like to use – if you aren't a tanning aficionado like me, I suggest just sticking with one to begin with. I would suggest either He Shi's Face & Body Tanning Gel or their Gold Foaming Mousse. Both of these have 'see where it goes' formulas – which means they are tinted, allowing you to see exactly what the product will look like when it has dried. Application is a lot like painting so be conscious and be delicate of where you are applying. Certain areas don't need as much product, these include elbows, knees, ankles, feet and your face – use a 1/4 of what you would use for the rest of your body in these places. I like to start with a gel layer and then move on to a mousse layer – but like I said, one product is sufficient too. I usually reapply every 48 hours after showering – and between reapplications, I will coat my body in a body oil. I prefer He Shi's Sublime Dry Oil – the more moisturized your skin stays, the longer your tan will last. Dry skin will speed up flaking and streaking. Avoid those with diligent moisturizing every night.
---
3. face & after tan makeup
pay special attention to face, use bronzer to enhance tan, body oil for limbs
---

I pay extra attention to my face – makeup and sweating means fake tan doesn't last as long. For my face, I love Clarins – their self tanning cream is fool-proof. I've been using this product for years and years. Four times weekly, after removing makeup and washing my face, I will apply a dollop of this all over my face and neck – I'll let this dry completely and then moisturize before bed. On the alternative days, I will squeeze a few drops of Clarins' Radiance-Plus Golden Glow Booster into my moisturizer – this simply adds a little bit of an extra glow – and so natural too as it mixes right into whatever moisturizer I am using. Fake tan, when applied successfully means I don't need to wear foundation. Fake tan becomes my foundation – so I'll opt for bronzing powders only on my face. my favourites (all of which have been mentioned before) are Chanel's Soleil de Chanel, He-Shi's Fusion Multi Bronze, Bobbi Brown's Bronze Shimmer Brick & Bobbi Brown's Bronzing Powder in Golden Light. These are all very light and natural – really bringing out my bronzed complexion. And finally, just before heading out for the day, I'll rub some of Caudalie's Divine Oil all over my legs and arms – it's a spray making it super light, leaving my limbs glossy and dewy.
---