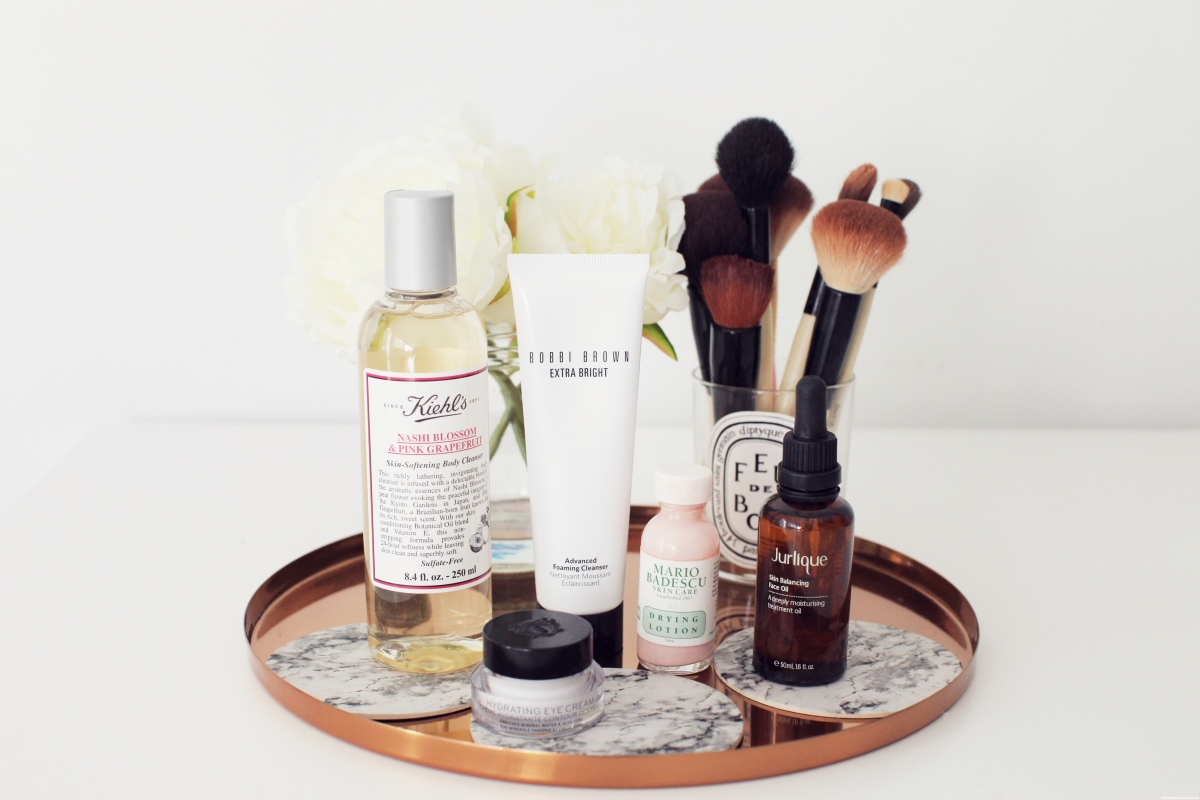 It was no easy feat narrowing down my skincare products down to five vitals. Now I won't claim that these recommendations will improve your skin, but they have done beautiful things to my own pores. My dear friend Emilie came to visit me in Barcelona last weekend, she practically shrieked when she saw I also favor Mario Badescu in my bathroom cabinet, the drying lotion I am recommending to you here very genuinely gets rid of blemishes overnight. Hence her excitement. It is somewhat like magic! I promise and no, I was not compensated to make this claim. As for eyecream, I do hope you are using one, regardless of how old you are. The rest are just simple essentials I'll always buy.
---
Kiehl's Nashi Blossom & Pink Grapefruit Skin Softening Body Cleanser
So many of the supermarket body wash options are too heavy for me, they feel chemical laden and over scented with a tendency of leaving my skin cracked dry. I long ago stopped scrimping when it comes to shower gel. Kiehl's has always been a beloved brand of mine, their products are simple but also, sulfate-free. I first bought this on a whim and am now on my 3rd bottle. Now, 20 euros for a shower product seems excessive but one small squeeze is enough per shower, meaning the product lasts means for at least 3 months. When it hits the water it creates a lovely lather ; I prefer to use it alongside a sponge. Additionally, the somewhat oily consistency means my skin is stripped of dirt but also moisturized. I also recommend the Vetiver & Black Tea from the same range, another beautiful smelling alternative!
---
Bobbi Brown Extra Bright Advanced Foaming Cleanser
I adore face washes that foam, they feel lighter to me. You already know what an advocate I am for Bobbi Brown and this one is just perfect for my skin type. I have combination skin and when paired with the clarisonic, this buffs my skin into the smoothest it has ever been. Again, a somewhat pricey product but a pea sized amount is all I use per wash, meaning you can get at least half a year out of one bottle.
---
Mario Bedescu Drying Lotion
This product is probably the best thing I have ever ever come across. I cannot emphasize just how effective it is. It basically zaps blemishes away overnight. I promise, from one day to the next, the blemish has totally disappeared! Whenever I see the signs of a blemish, I will apply a few drops of this directly onto the problem area before bed, by morning, the blemish is gone. GONE! I picked mine up at Urban Outfitters, its not expensive, but even if it was, I'd still buy this in bulk. It has saved my face many many times. If you buy any of the products I recommend here, make sure it is this one! You can thank me later.
---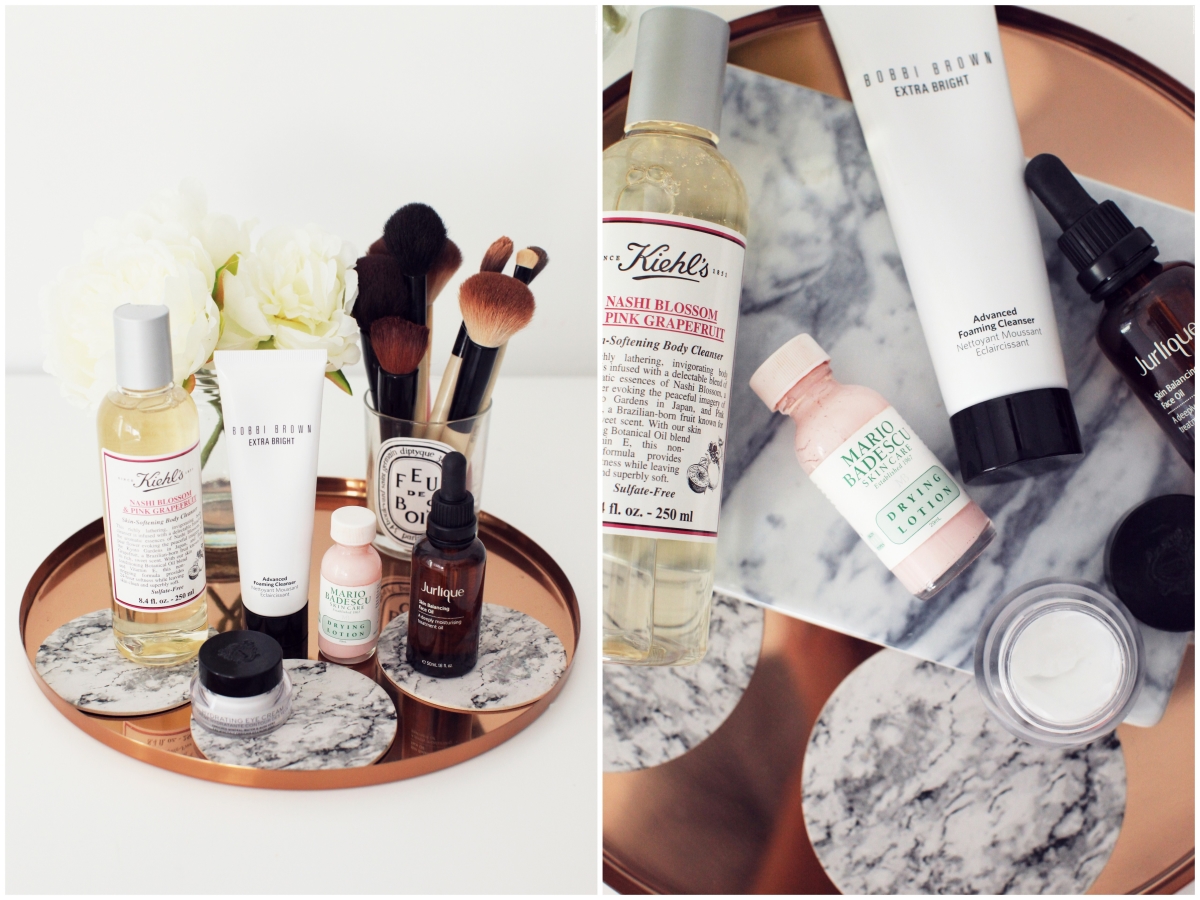 ---
Jurlique Skin Balancing Facial Oil
Alongside my zealous clean eating, I do prefer to use natural products, hence why Jurlique is a favourite of mine. Now, I never use to invest in facial oils, fearing that they would make my skin greasy. This one however is very light and I'll apply it every night to the dry parts of my face, mostly forehead, cheeks and neck. If you do have combination skin like me, a facial oil is wonderful if you simply avoid the greasier parts of your face – in my case, I will never apply to my t-zone. A few drops is all I will use, typically before bed. It makes me skin plumper and less dry. I have always struggled with the dehydration lines on my forehead, but whenever I use this oil, by morning they are gone.
---
Bobbi Brown Hydrating Eye Cream
The eye cream, oh how many options there are. I find it so confusing, one step into Sephora and I'm mystified as to which I should buy. Precisely why I just let Bobbi Brown decide for me. I trust the brand more than any other so thought their eye cream would be a safe option. I actually use a beauty blender to apply this, it ensures that the cream truly soaks into my eye sockets – in hopes of avoiding any more wrinkles. Like all of Bobbi's product, this is light, barely scented and so wonderfully abosorbed into the skin. I've been using this same little pot of eye magic for over a year now, so again, not a cheap option but it will last forever and it's effective!