a barcelona city guide in collaboration with karen millen & secret escapes
Next month marks two years of Barcelona living, the city and I have had our ups and downs, but ultimately there is no where on earthI'd rather call home. And so with my soon to be 2 year anniversary coming up, it felt the perfect time to finally share a mini guide of the city. Personally, I believe Barcelona makes for the perfect holiday destination, it is both coastal and cosmopolitan, sunbathing on the beach but with a vibrant city life to explore too? Not many European cities can top that duo, not to mention Spain is lucky to have the best weather, all year long. It was such fun compiling this guide alongside Karen Millen and Secret Escapes, enjoying once over the city I call home but as a faux-tourist. And so with that said, here's a mini guide: where to stay, what to pack, where to eat and other solid advice I know will prove useful if you plan a visit to Catalunya's capital city. I am really proud to showcase the city here in a way I haven't before, and I hope you come back to this post as reference when you next make a visit to my beautiful Barcelona. And on that note, vamos, a round of all my favourites right below!
---
where to stay: the fairmont rey juan carlos 1
---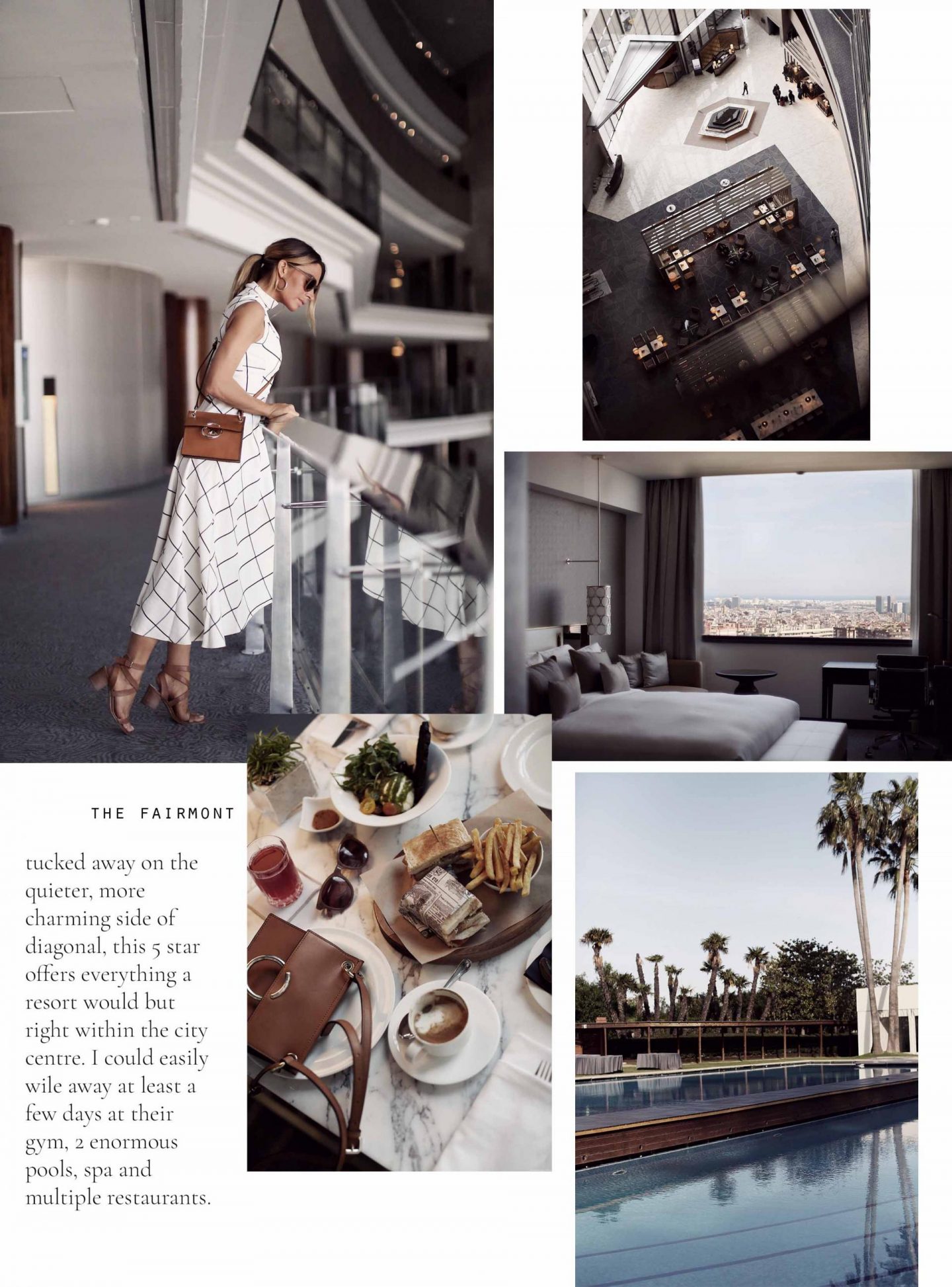 I had heard of the Fairmont many times over, so I was happy to finally experience it. Tucked away on the quieter, more charming side of Diagonal, this 5 star offers everything a resort would but right within the city centre. I could easily wile away at least a few days at their gym, 2 enormous pools, spa and multiple restaurants. The hotel effortlessly fuses modern and traditional decor, which consistently spans their 11 floors. The views from my bedroom were breath-taking; the huge window positioned centre of the room showcased the city in all it's beauty, from the beach to the chaos in between. We also couldn't help but try their lobby restaurant, a delicious yet simple menu of luxury hotel classics such as the club sandwich and caesar salad. I cannot remember the last time I ate a french fry, but these were well worth the indulgence!

---
what to wear, pack and makeup
---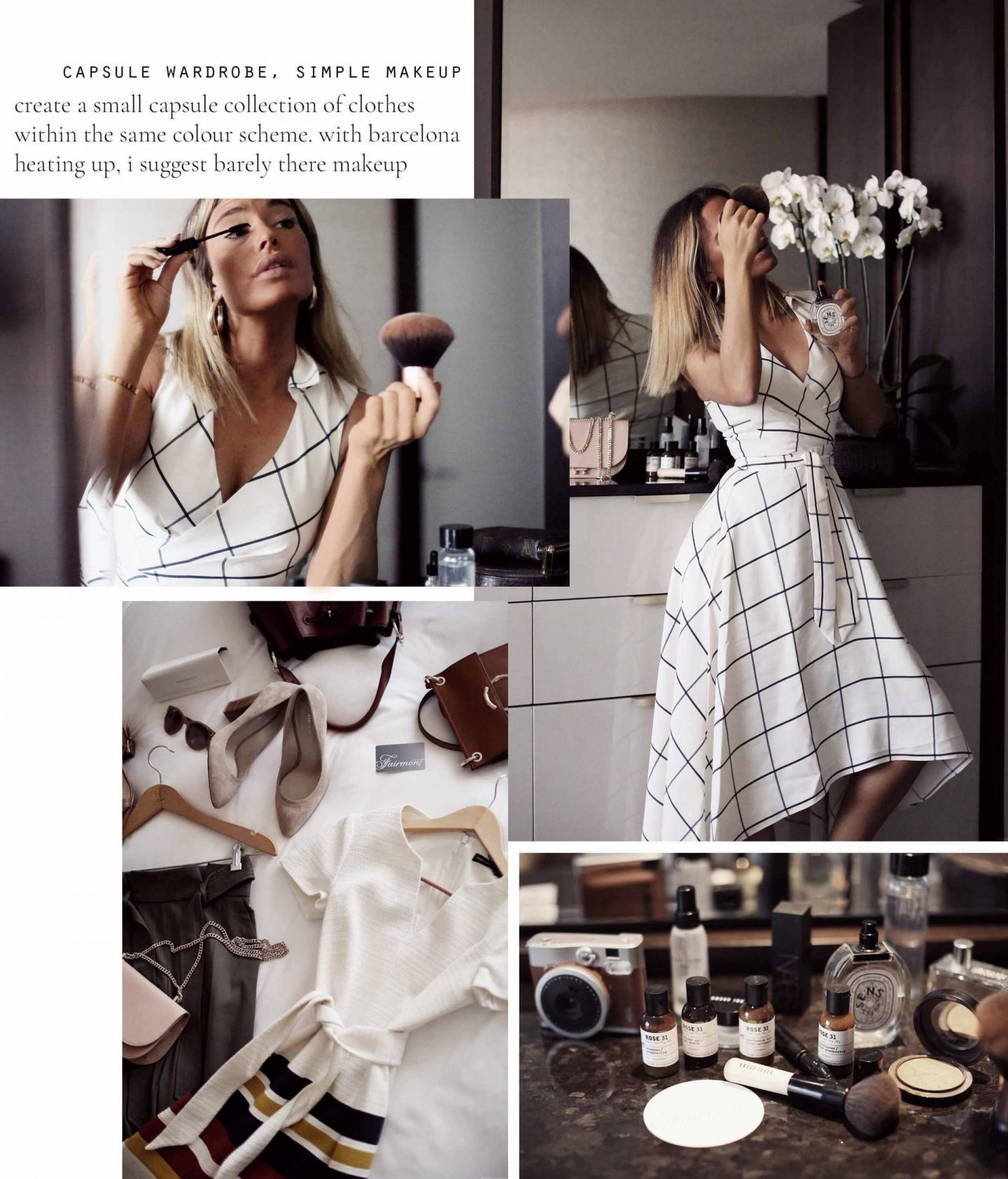 Travelling is manic and with Barcelona heating up, I stuck to a simple, fuss-free regime. Barely-there makeup is best especially with the beach in mind: a few waves of mascara, some bronzer and a light SPF moisturizer are my essentials. I always ensure to carry a matte lipstick and balm with me too. I must salute the Fairmont for stocking Le Labo in their guest bathrooms, I always appreciate this as a woman because so often the cosmetics supplied by hotels are terrible quality. As for my wardrobe, I prefer to pack lighter and shop on my travels. I always come home with a much heavier suitcase, so I tend to create a small capsule collection from my wardrobe: clothes within the same colour scheme that are comfortable and can be dressed up or down. Versatile but chic shoes are vital too, these Karen Millen strappy sandals are easy to wear, comfortable to walk in ; ideal for exploring. Sunglasses and a hat too are important, I could not travel without either! Barcelona is a very laid-back, casual city so stick to simpler dresses and easy tailoring; fancy ensembles aren't necessary here, not to mention, impossible to wear when the summer starts scorching. As for handbags, I suggest compact smaller styles that can be worn close to the body, this will keep your belongings safe: Barcelona is sadly notorious for pickpocketing. I'll also be sure to bring a bigger style for when I plan on shopping or shooting, with ample space for my camera equipment.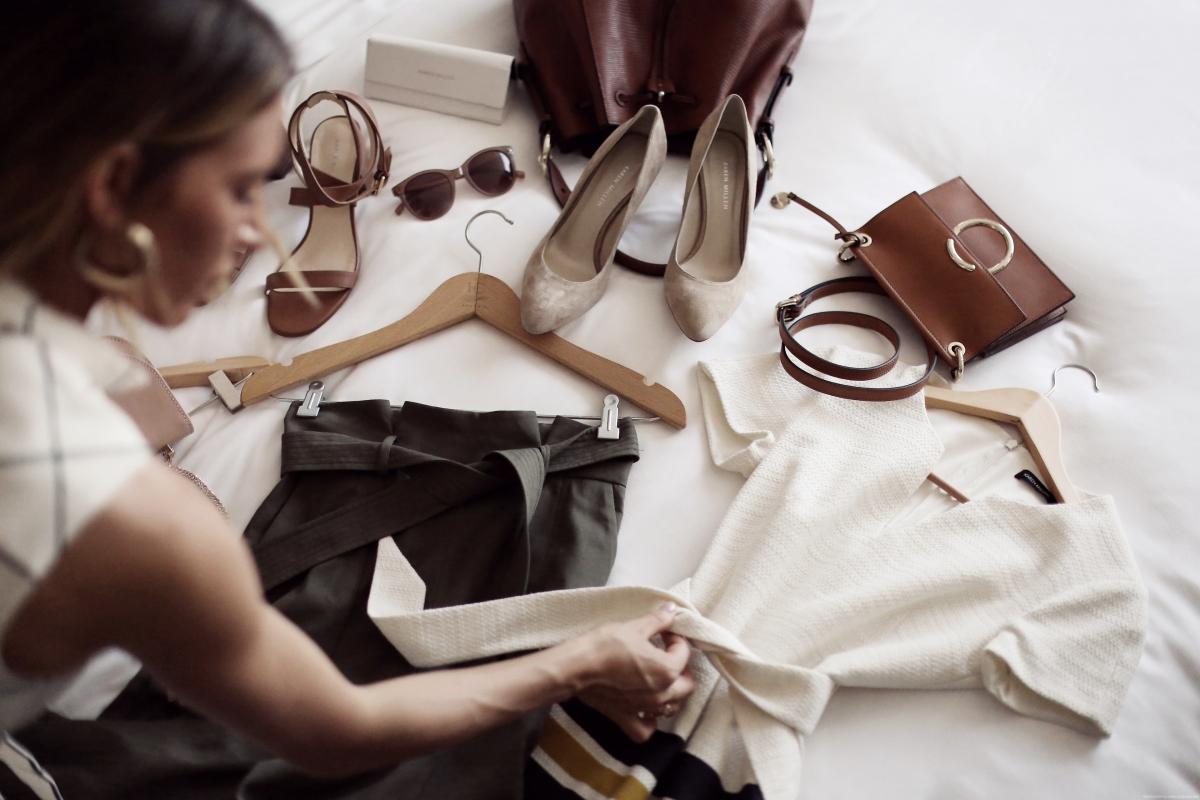 ---
el born and barceloneta
---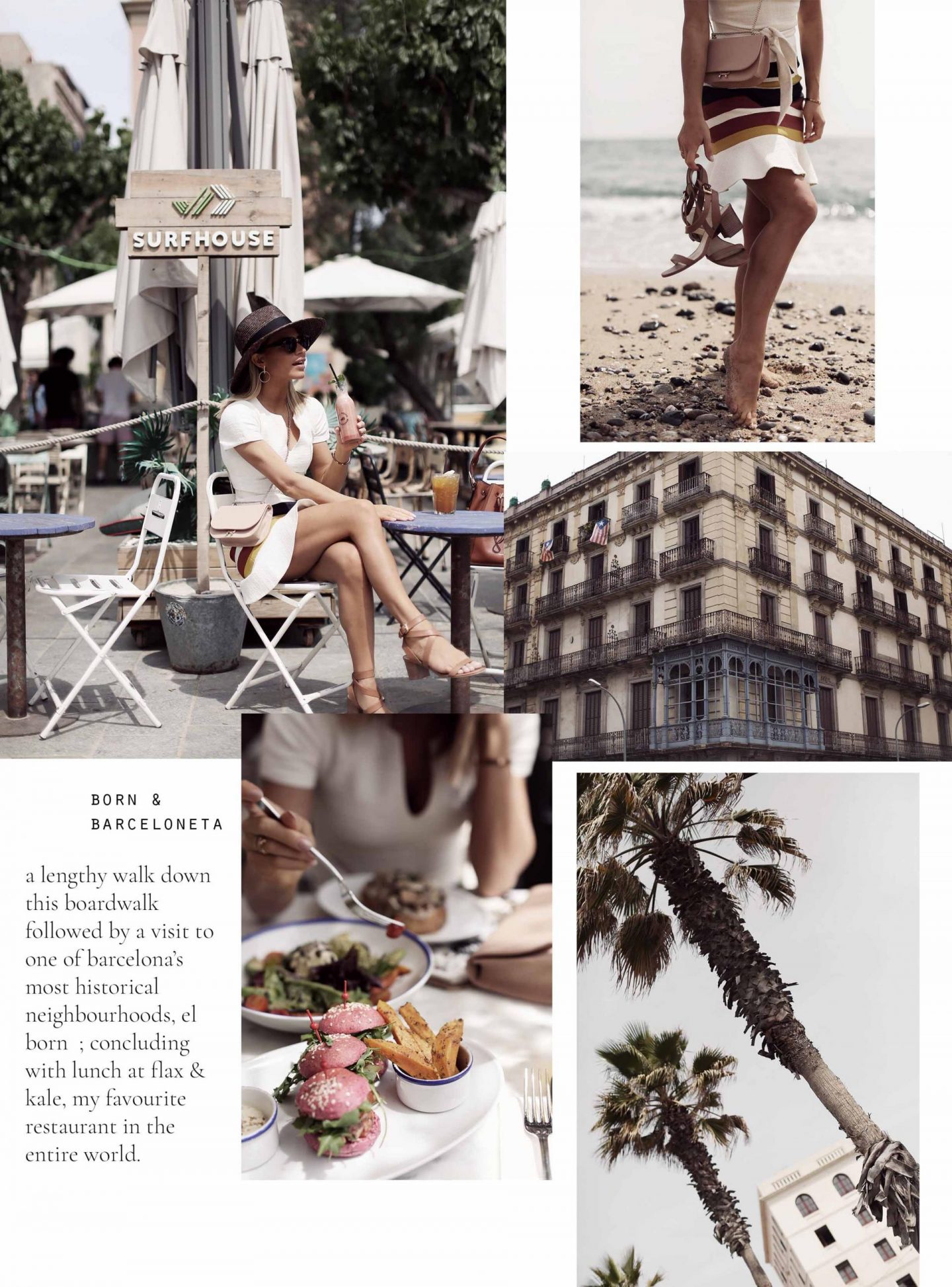 What's a holiday without a beach? I couldn't recommend a lengthy walk down this boardwalk more fiercely. It's a stunning spot; best to go early in the morning to avoid the crowds that intensify as summer heats up. It's also the best city spot for vacation photos, the light bouncing off the sea makes for a stunning shot. Make a pit stop at Surfhouse, home to the best smoothies in Barcelona. They also offer an extensive menu of brunches, burgers and so on – everything is delicious! Or for something more sweet, the artisanal ice creams at Ice Box make for the perfect beach treat. El Borne is very historical neighbourhood, nestled between the beach and Gotico, it's one of my preferred areas and less tourist-filled than others. The architecture reminds me of a movie-set. I'd suggest using El Mercado del Borne as your starting point, a market in the centre of an enormous square, a few years ago, all kinds of ancient ruins were discovered beneath the market and it has since been turned into a fascinating museum. History aside, the square offers all kinds of discoveries: from icy drinks on terraces dotted on every corner to quaint boutiques, flower shops and coffee spots. I could spend hours wandering this square and the streets in between, there is so much to see! This neighbourhood is also great for a night-out, friends and I bar hop here on the weekends. Finally, not in Borne but too perfect to not mention is Flax and Kale, Barcelona's most celebrated healthy restaurant, I'd recommend grabbing a taxi here: my preferred method of transport, mostly because it's not much more expensive than the metro and much less stressful! This is my absolute favourite restaurant in Barcelona, I have tried every single thing on the menu and it is all incredibly delicious. Don't miss this spot!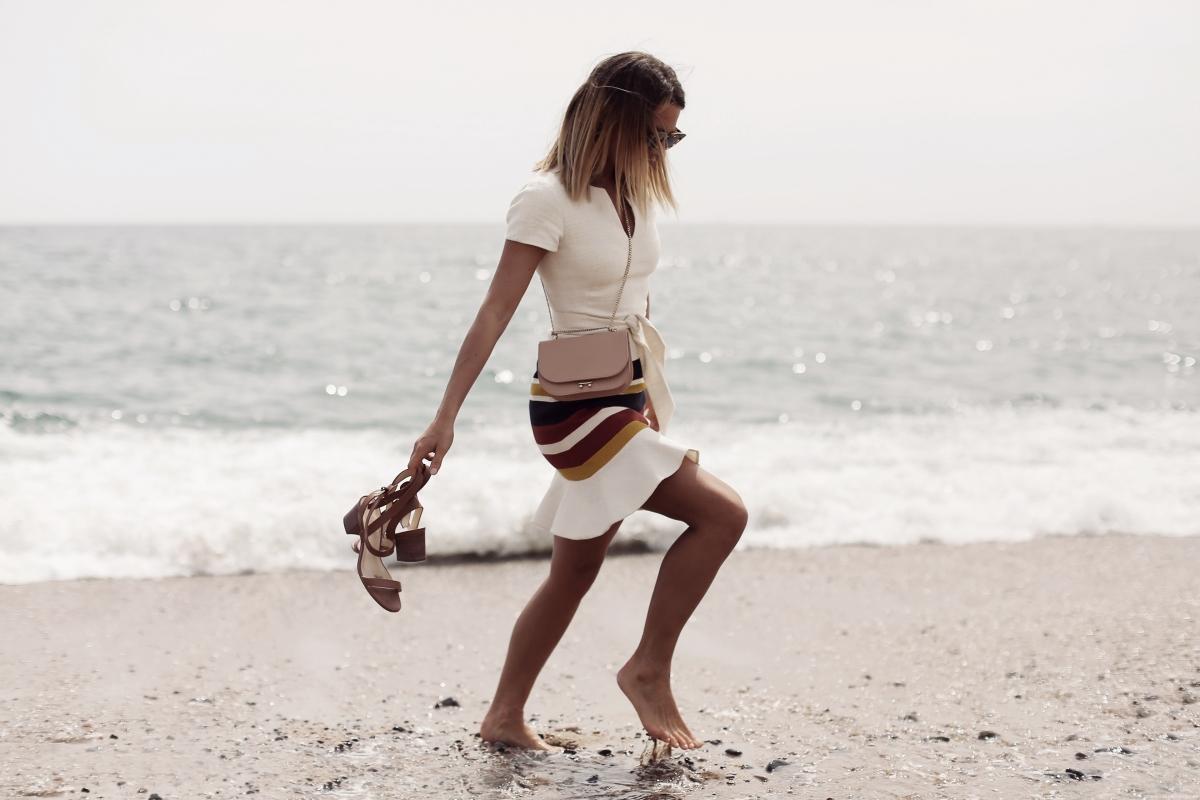 ---
paseo de gracia
---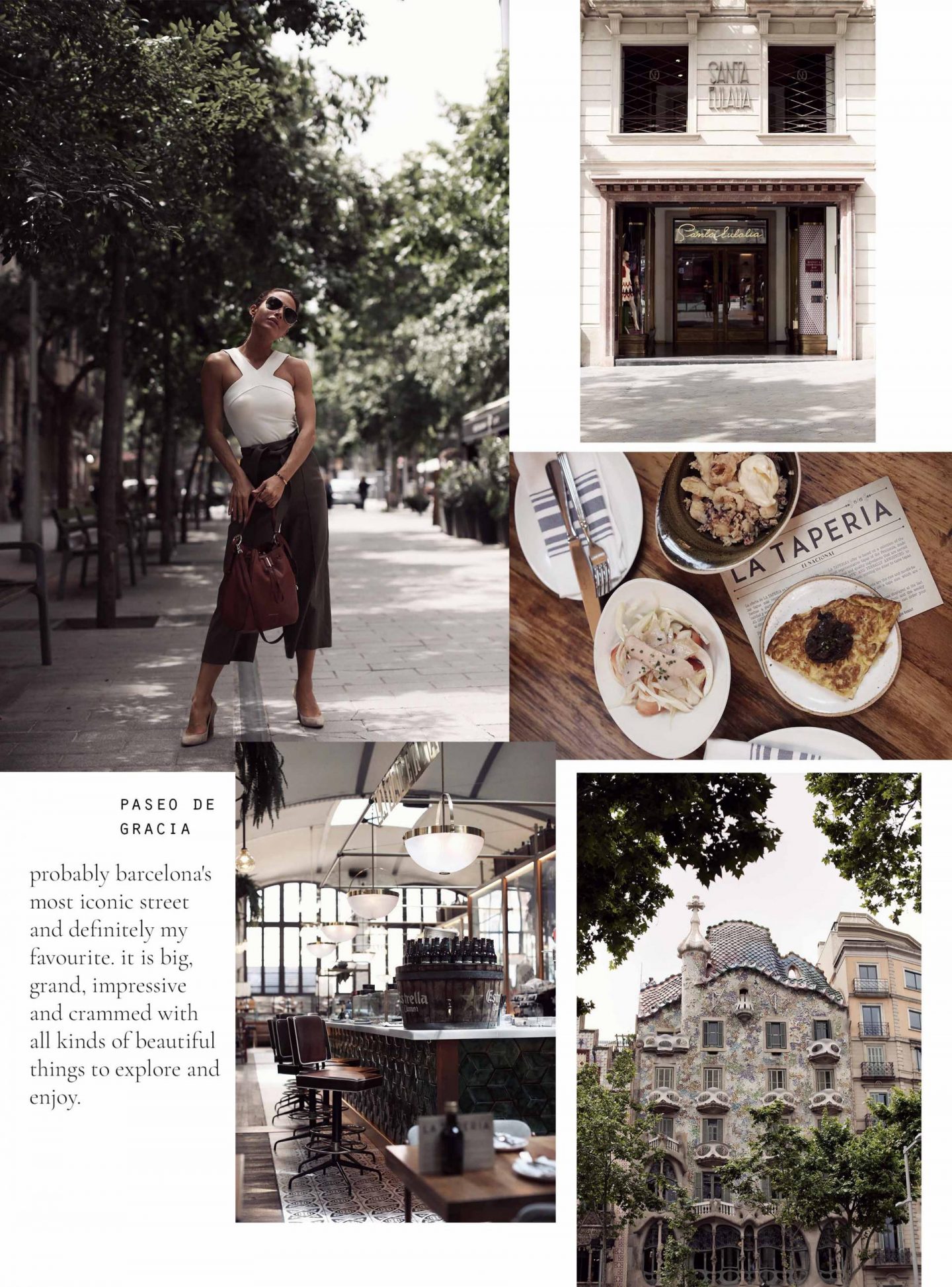 Paseo de Gracia is Barcelona's most iconic street and definitely my favourite. It is grand, impressive and crammed with all kinds of beautiful things to explore and enjoy. It is also home to the best boutiques including Santa Eulalia, the luxury landmark of the city, established since 1843, stocking a curated collection of designer goods. They also produce their own magical signature perfumes, plus they have the most delightful champagne bar. I adore this boutique. Casa Batllo is also situated on Paseo de Gracia, of all the Gaudi attractions, this is the one I absolutely wouldn't miss. Even as a resident, I have repetitively enjoyed wandering around this curiously designed house. It's a real Catalan treasure and a well maintained one, the city is very proud of this landmark and if you visit it, you'll see why. I also love stopping at the famous Tenorio for a coffee or three: grab a seat outside or in their entrance for the best people watching view. It's also a very instagrammable spot, perfect for a sophisticated cafe holiday snap or ten. The best tapas are at El Nacional, tucked away on a quiet passage just off Paseo de Gracia : Tortilla de Patata is my absolute favourite Spanish dish. But this venue actually hosts all kinds of different restaurants from seafood to pasta, the choice and the decor are incredible.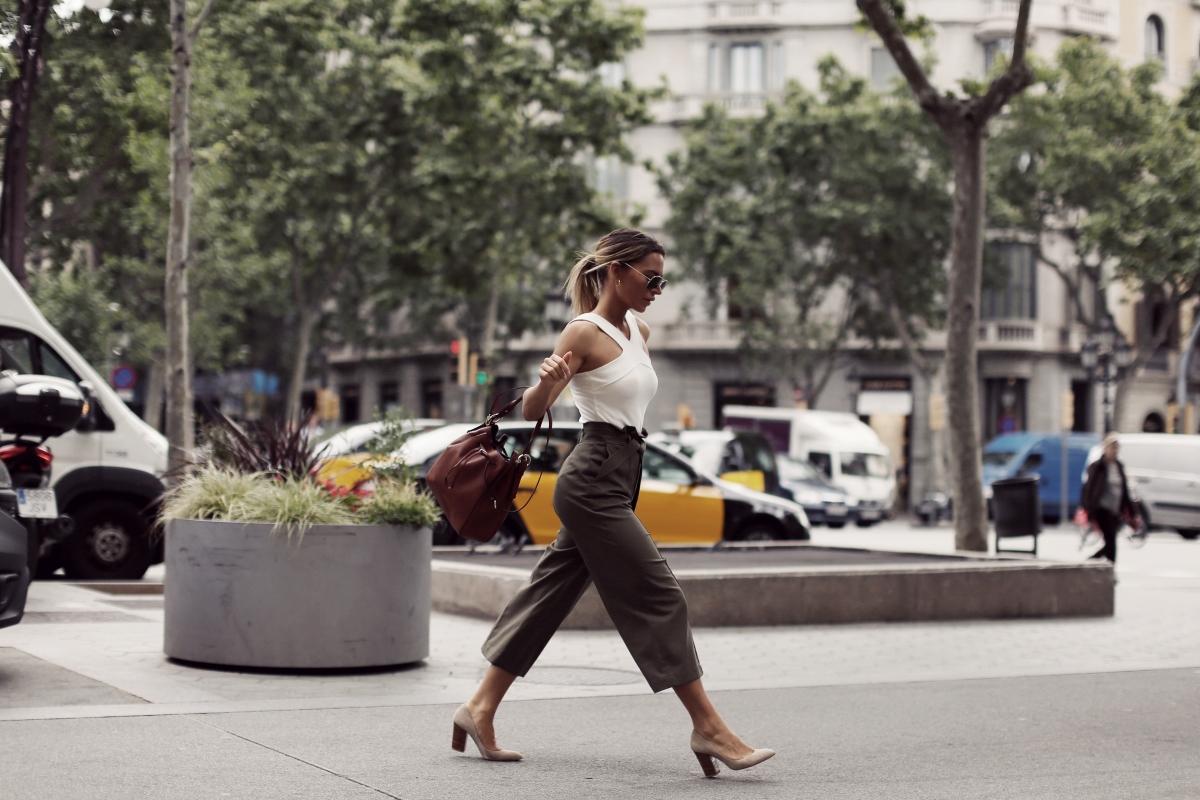 ---