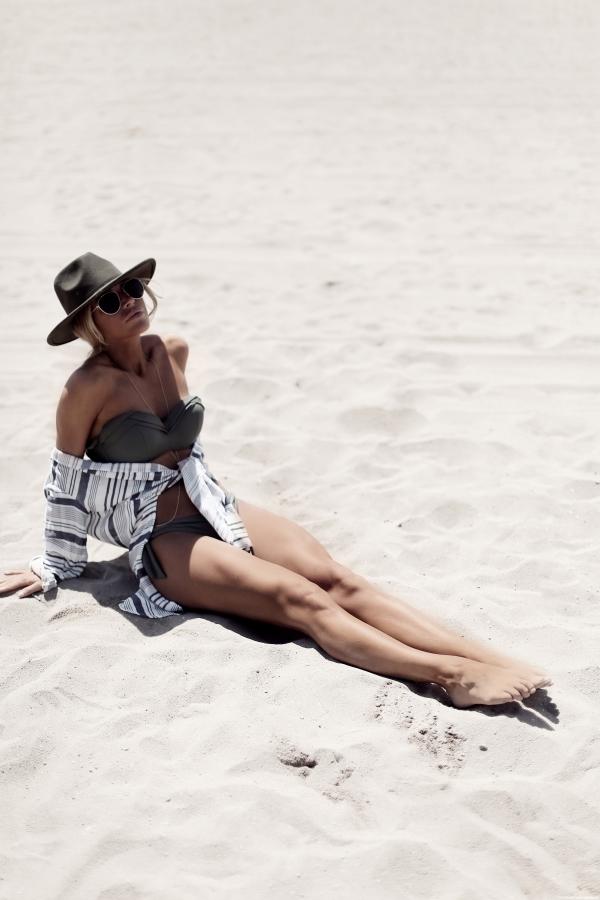 Two trains and a sunburn later, I am feeling absolutely invigorated from our first beach day of the season. Summer has finally rolled in! I feel like I've been waiting since last October at least, when I reluctantly pulled down my box of scarves, feeling absolutely overwhelmed by the colder days ahead. But here we are, the beginning of the best season, and there is no where else I'd prefer to live it than here in Spain, this country comes alive under the sun. Saying that, so do I. I am the best version of Audrey in the summer. While Barceloneta is surely an attraction for visitors, I plan to familiarize myself with all the quieter, less stressful coastal towns outside of the city, one bikini at a time. Speaking of bikinis, the first few outings in so little clothing can feel rather intimidating, don't you agree? Suddenly we are half naked in public, most likely sweating and absolutely convincing ourselves we look way worse than we actually do. Swimwear is undeniably the most fun of all the clothing categories, primarily because it's worn to enjoy the best places and yet for us women, it can be an actual hell as well. So with that said, I thought I'd share some tips for easing into your first bikini day without the awkward shifting around on a towel; fearing the walk from sand to waves.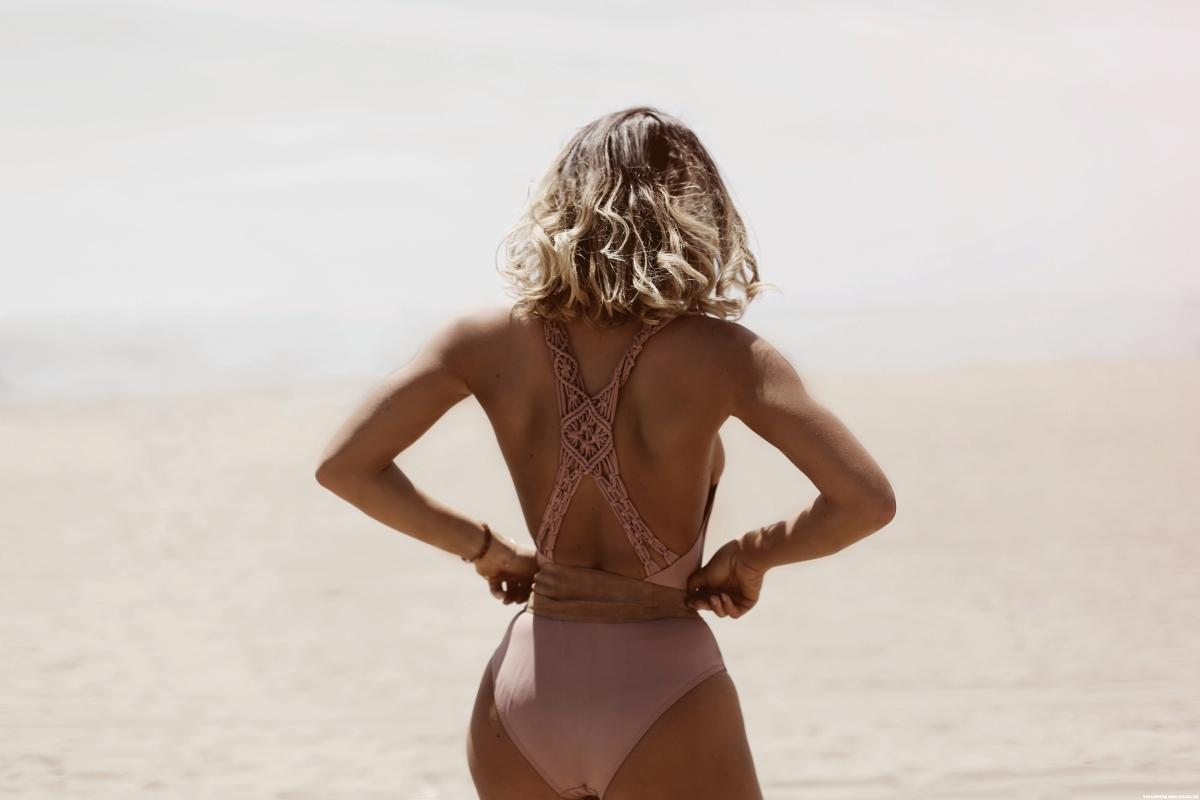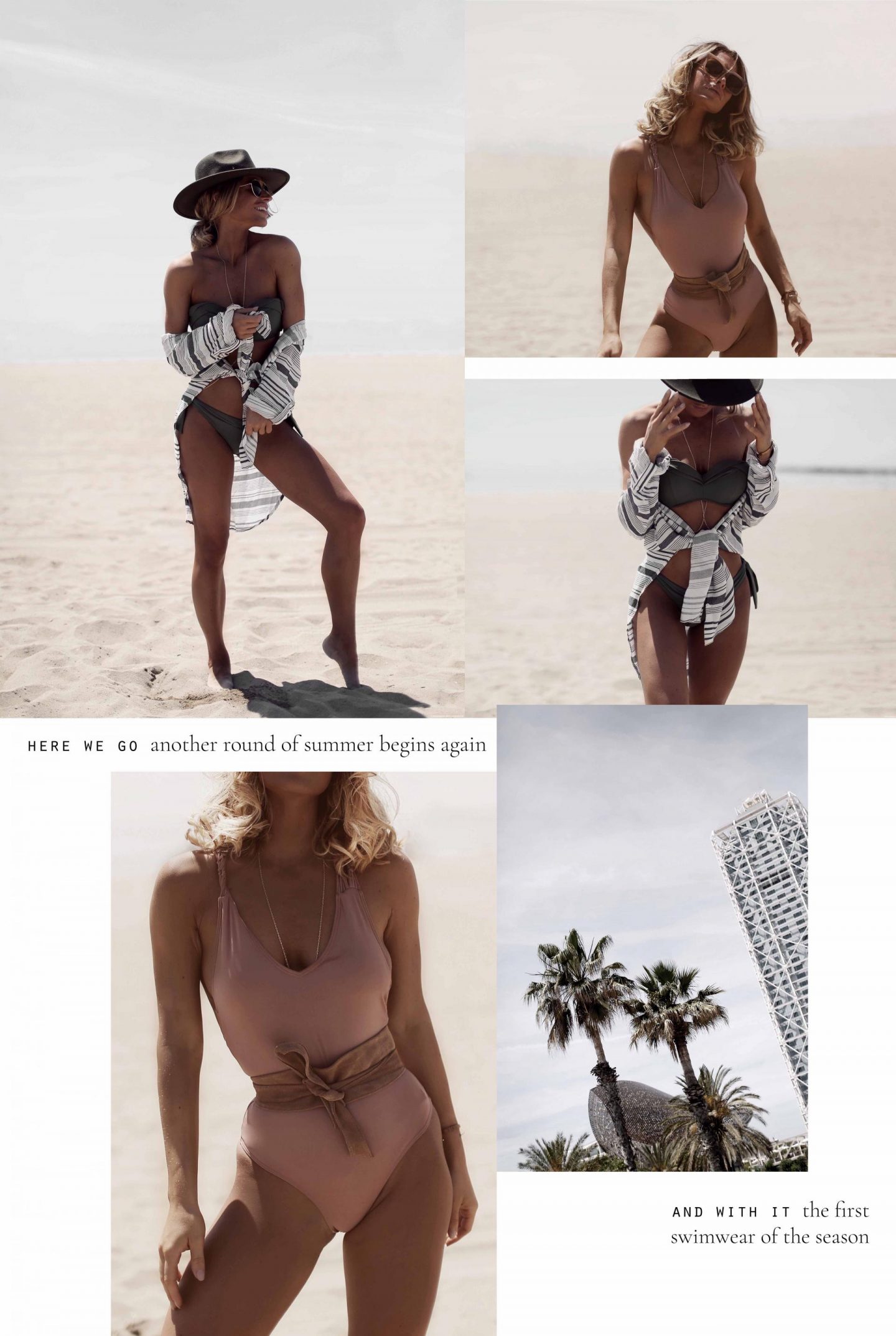 ---
---

advice for your first swim
Gone are the days of the sporty swimsuit and matching rubber cap for school swimming, the one piece can absolutely be sexy too and a little less intimidating to slip on. There are so many beautiful styles this season and intricate enough to banish all the 'mother of three at the beach' connotations the one-piece traditionally embodied. This one from Primark is simple yet flattering ; the back being it's sassier feature. However, I also love the one-pieces that could double as lingerie: incredibly strappy and very cleavage heavy. Typically accessories at the beach are a ridiculous addition, not concisive to swimming, sweating or sunbathing but I say, why not? High heels are fairly ludricious and yet we as females have happily embraced those. A suede belt over a one-piece not only cinches in the waist, covering whatever king-size resort breakfast I hope you eat before your beach day but also, just looks lovely. You can always whip it off for a swim. The body chain and I are having a big moment. I feel like J Lo. Jewellery always makes me feel prettier, inexplicably but consistently so. And so on a swim day, when we usually go makeup and hair styling free, a little bit of bling can go a long way. The chic cover up is another sly swimwear antic of mine, especially on these early summer days when it's yet to scorch. This linen number by Primark checks all the boxes for ideal cover up, light-weight, neutral and bohemian enough to not be mistaken for a shirt. How comforting it is to not feel absolutely naked, at least for the first few hours as you ease in. If your chest, like mine is beginning it's defeat against gravity, choose a structured, padded bikini top. Those wispy, spaghetti strapped ones are gorgeous but they make my breasts look sad and well, not at all sprightly. Structure is bikini-key at almost 30! As for the bottoms, I prefer pulling them up high, which creates a curved like shape, thus emphasizing your womanly shape. Try it, I promise it works. And finally, the most important; an SPF infused body oil, preferably of the glittery kind. This will make you feel like a goddess all over and will keep your skin dewy and moisturized. Double win!