I love to shower,I guess we all do in some way or another, but for me, it's a ritual I cherish. And so often a shower is the motivation for getting myself into the gym or out on a run. There is no daily satisfaction I feel more than throwing my tired muscles under a hot shower and out into clean pyjamas. So I take my showers pretty seriously, I am always secretly appalled when I step into a man's bathroom to see just one lonely & very big big discount combo bottle of shampoo/conditioner and not much else. And obviously, my boyfriends have always been bewildered as to all the bottles I keep in my own shower. It's crowded in there to say the least, but I've narrowed some of my essentials down to a few solid favourites, including the only shampoo I'll use ever and a few gadgets that I absolutely swear by!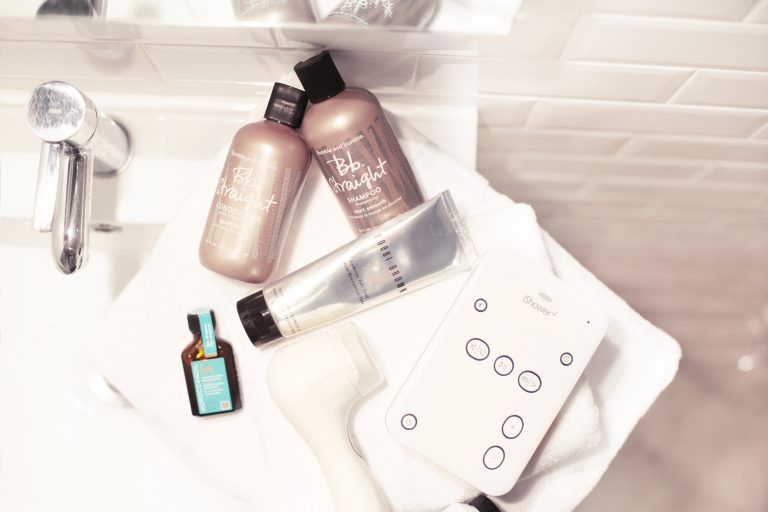 ---
I have very thick and tetemperamentalocks so the shampoo & conditioner I use has been a constant struggle – leaving my hair with too much shine or terribly dry and crispy. Bumble & Bumble is so painfully expensive, I know. I got through a 30 euro bottle of their Surf Spray in about 3 weeks last summer, but my now shorter hair means a bottle goes a lot longer now. So I buy the best and my hair looks so much better for it. Dries naturally straight with a little bit of a wave, and the product doesn't weigh down my hair. And boys always tell me my hair smells nice, so that's a plus too, right?
---
Oh I am so annoyingly fussy about what I wash my face with. You already know one of my top choices will always be Caudalie, but I am also really loving Bobbi's Lathering Soap. A tiny dollop creates a beautifully scentless soapy mousse, pumped full with ingredients like coconut & apricot oil and designed especially for my crazy combination skin – it's a real great one!
---
I bought the tiniest bottle of this, too doubtful to invest in the full size. My dad spends a lot of time travelling Morocco and his enthusiasm for Argan oil rubbed off on me. So I thought I'd give this one a try. The most modest drop is really all my bob needs, I don't use it daily but when I do, my hair is shinier, silkier and just generally feels the way I wish my hair always did. And as I am only using a pea size amount per application, this little bottle was the right size for me to buy!
---

---
Probably the best thing to happen to my daily life since I invested in a juicer. This waterproof, bluetooth stereo means you can listen to music as well as make phone calls from right inside your shower. At first, I didn't think I would enjoy this gimmick all that much, but now I can't live without it and it's always in my suitcase when I travel. I'll set up a playlist on spotify and let it play via my iphone while I am showering. Depending on my mood, and what I have planned after, what plays can vary from soothing (Ludovico Einaudi) , moody (Banks), to down right happy disco (The Knocks). And it's such fun to have it on in the bathroom when you are getting ready for a party -or on a painful early morning when you just need some sort of reason to feel alive.
---
If you don't have one of these yet, you must buy one! I resisted for a long time as Clarisonic isn't a cheap purchase. I use mine religiously, it's vibrating brush head cleans your face 10 times more effectively than simple hands & water. 60 seconds and a dollop of your favourite face wash is all you need! And really my face feels so much cleaner & clearer afterwards, so much so, I can't believe I didn't buy one sooner. Also, the Clarisonic is queen of makeup & pollution removal, both of which sadly wreak havoc on my complexion.
---