One day I decided that I was beautiful, and so I carried out my life as if I was a beautiful girl. I wear colors that I really like, I wear makeup that makes me feel pretty, and it really helps. It doesn't have anything to do with how the world perceives you. What matters is what you see.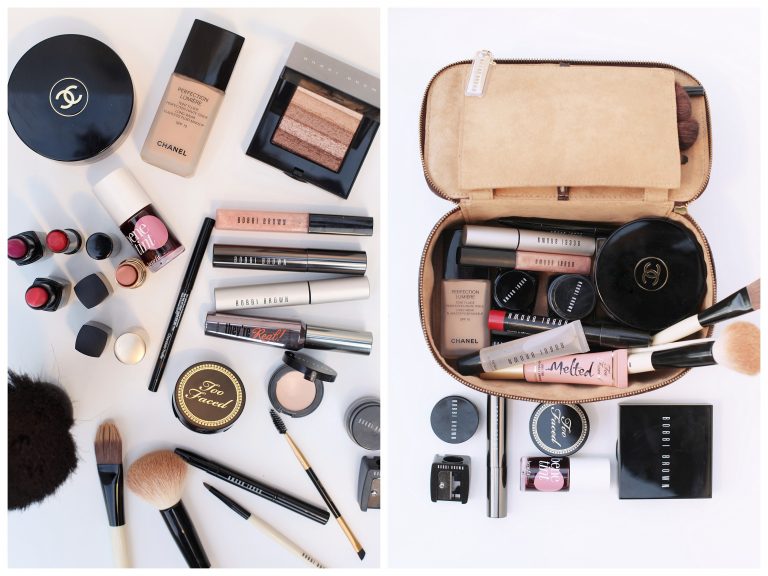 Like most girls, I adore makeup. I like showering, moisturizing and putting it on as best as I can. It has taken me a full year to really find my way in terms of the makeup that works for me, what I can afford to buy and what I can't justify – and I've learnt how important quality is when it comes to all these things we as women put on our face everyday. For most of my life, I'd buy my makeup at the supermarket or maybe whatever looked cute and on sale at Sephora. But I'm getting there I think, investing in good but painfully expensive products when I can, watching a youtube tutorial every so often as well as peppering some of my more glam girlfriends with questions like 'what is a stipling brush?' or 'do i need primer, is it a moisturizer?' So remember, I am a novice at this – and while I might not know much, I do know that I love these products and like everything I write here, it comes from a place of personal recommendation. Just as my real life friends trawl through my makeup bag, I thought you might like to too. Each product mentioned is linked, just hover and click – if any of them catch your eye, that is!
---
foundation:

My skin has gotten more sensitive with age, I used to be able to slap any old product on and it wouldn't affect my pores. At 26, I have had to get serious about foundation – which means shelling out for the good stuff. After trying a few (including a terrible experience with a YSL shade) my favourites are Chanel Perfection Lumiere, Benefit's Hello Flawless & Nars Sheer Matte (not photographed here, I just ran out) – all three are light but still give good coverage. I don't usually get blemishes, so I prefer a lighter option, anything too heavy just weighs my face down and honestly, feels really uncomfortable on my skin.
---
mascara:

I am cursed with short, stubby and just generally pathetic eyelashes. Sadly, all my facial hair sits on my bushy eyebrows. So really, I need all the help I can get when it comes to mascara, the really crazy jet black, thick options are best for me. Benefit's They're Real is magical – there is reason behind the hype. I will always have this in my makeup bag. Thanking one of my best friends who handed me hers a few years ago when we were getting ready to go out on a Friday night. Ever since then, I have been hooked and it's probably one of my favourite beauty products of all time. Second up are Bobbi Brown's Smokey Eye & Extreme Party Mascaras. These are great too, and not clumpy at all – I usually like to layer my eyelashes in a different mascaras, so I'll use both the Benefit & Bobbi Brown at the same time.
---
lipstick/lipgloss:

My favourite part of makeup, mostly because my lips are one of my favourite parts of my face. It seems my prominent nose was met with prominent lips, so I like to cover them in all kinds of colours! The 4 lipsticks I use most frequently are all by Bobbi Brown, Creamy Red Carpet Matte, Rich Lip Colors in Soft Coral ,Cosmic Raspberry & Bare Pink – you've definetely seen me wearing these in my outift posts, especially the Bare Pink which is the perfect barely there nude, I don't really leave the house without it on! I also recently fell in love with Bobbi Brown's Art Stick, (in Harlow Red) which legitimately looks like a big crayon. I made a huge mess on the first attempt, but after some practice, it's such a lovely alternative to lipstick and so much richer. I like to line most of my lips in this and then fill out the centre with the red lipstick. And as for lip gloss, I keep it pretty simple with Bobbi Brown's Crystal Clear Lip Gloss as well as the High Shimmer Lip Gloss in Bare Sparkle. I will use these on top of lipstick for a little bit of shine. I am also enjoying Too Faced's Melted Lipsticks, which are such an incredible consistency and deep in colour too, my favourite one has to be Melted Nude – such a fan of a basic nude lip!
---
bronzer/blush:

My skin tone varies drastically, for 6 months of the year I am pale and the other 6, I have a deep tan from summers in Spain. So I use different products as the seasons change. However, I will always wear bronzer, my all year choice is Bobbi Brown's Shimmer Brick in Bronze – it looks worryingly shimmery in the compact, so much so I was convinced I would hate it. I don't like glitter on my face! But it powders on so smoothly and the shimmer acts as a highlighter – such a lovely colour on top of my foundation. In the summer, I opt for Chanel's Soleil Tan – I was so tanned this last summer, I was actually using it as a foundation (I know, I know makeup artists are probably shaking their heads everywhere at me). It's thick and creamy, but matte – perfect for hotter weather when I am more prone to sweating. In terms of blush, I only just started experimenting, previously I thought blusher would make me look like a creepy doll. But after some enthusiasm on my best friend's behalf, I was coaxed into trying a few. So far, I really love Benefit's Benetint – a magical little liquid that adds a natural looking rouge to my cheeks – the same sort of healthy colour I get when I finish a workout. Benefit's Majorette was a gift from the brand a few months ago, a sheer coral that looks pretty on both my pale and tan skin – I'll only use this sparingly, as the colour is pretty intense.
---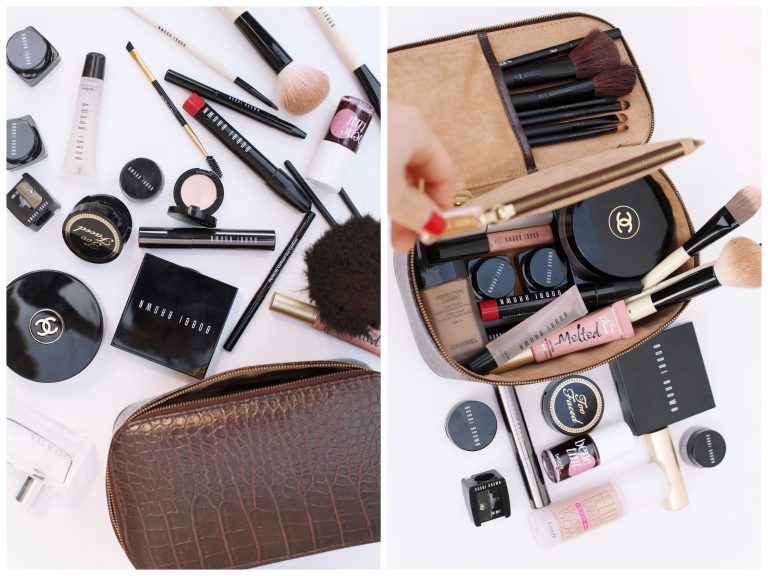 ---
eyeshadow/eyeliner:

When it comes to eye makeup, Bobbi Brown is my all time favourite and so I stay loyal to the brand, using the same products over and over. They include the Long Wear Eye Pencil, the Ink Liner, which is a pen version of the pencil – really useful for clumsy girls like me when I'm aiming for that darker, dramatic look that my makeup artist friends love to say suits me (it suits me when they do it, when I do it, sadly, not so much) I also use the Long Wear Gel Eyeliner, which comes in a pot – it's 100% smear free, another imperative eyeliner quality for a klutz! For eyeshadow, I only ever one colour: Long Wear Cream Shadow in Slate, which I adore, it's subtle and blends well for a smokey eye (absolutely the only kind of eye makeup I semi know how to do)
---
primer/ concealer/brows:

Up until a month ago, I had no idea what primer was. Like I said, I'm a total beginner here – but after asking a lot of questions and getting a lot of confusing recommendations, I opted for the Benefit Porefessional. And I'll be honest here, while the reviews were good for this product, I bought it on a whim because the packaging was cute. Thankfully it wasn't a waste of money because I love it , it's so mattifying and smooth on the skin – I've noticed a considerable difference in the way my foundation looks with this primer underneath. I'll definitely re-buy this one! As for concealer, I work best at night and often don't sleep enough, so let me tell you that the Bobbi Brown Creamy Concealer is probably the most important part of my makeup routine. The shadows under my eyes totally disappear – it's so thick and soothing to apply because I know I'll instantly look so much better. Brows, mine are so bushy, but I like them like that. I don't do much with my eyebrows, preferring to keep them natural, which is very untrendy now. However, because I suck at plucking/waxing them, sometimes I'll need to cover up my poor botched eyebrows and Too Faced's Bulletproof Browns works well for me. Now, I have no idea what I'm doing when I'm applying this, but the result is always one I am happy with.
---
brushes/cosmetic case:

I love Bobbi Brown's brushes, a little pricey but such good quality. I have no idea what most brushes do or how they work, but the five I have and use daily are pretty basic. They are the Foundation Brush, Face Blender Brush, Concealer Blending Brush, Ultra Fine Liner Brush (makes eyeliner so easy to apply!) & Cream Smudge Ultra Fine Brush. These are basically for foundation, bronzer, concealer and eyeliner – in that order. These easy five work for me because really, I don't wear much makeup and when I do, my routine is fairly uncomplicated. And finally, my favourite part, is my cosmetic case. I travel a lot and for years have been on the search for a quality, portable case to keep all my makeup in. After dozens of those practically disposable cute cheap ones from Forever 21, I came across this Bobbi Brown Limited Edition case and just had to have it. Made of leather & butter soft suede with practical components for brushes, lipsticks and bottles of all sizes, it's pretty much perfect! I absolutely adore it! Only challenge is avoiding makeup smears all over the gorgeous lining!
---