some simple spring beauty products I am enjoying lately
With my mind on spring, always – up here in my head, it is no longer winter – my latest beauty buys are of the floral and feminine kinds. I even stole some almond blossoms from a blooming tree during a walk in the hills – and yes, I am yet to fully clean out my old Diptyque candle jars, so if anyone has any advice on the best way to do that? I would really appreciate it – burned through those babies far quicker than I anticipated, which slightly pains me considering how dear they are. I dream of owning half a dozen or more, all lined up – and I can light one or all of them at once. Until I can justify 300 euros on candles, let's start with what I have been able to afford this month, beauty-wise.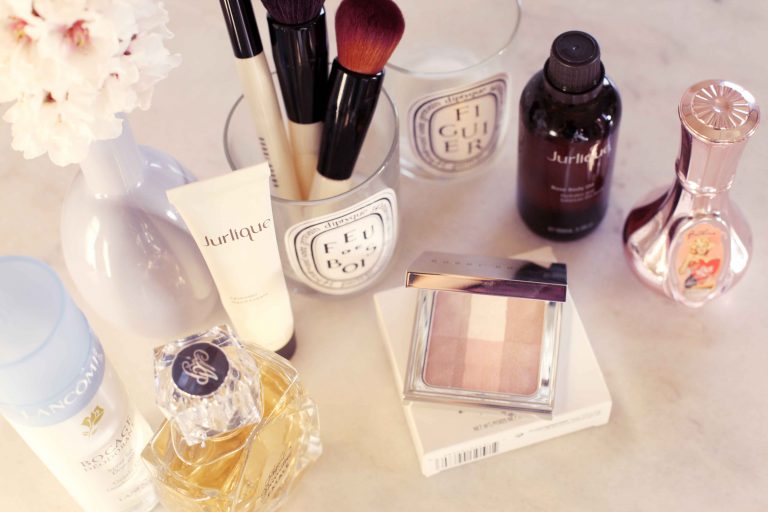 ---
Lancome Bocage Deodorant
Ok, so I sweat a lot. Most geeky girls do – and I exercise, so double the drip. I got so tired of the over-scented supermarket options and feeling particularly sad at the airport recently, I picked this up. Now I originally wanted to splurge on some Chanel nail polish, but decided this was the more practical choice. It's significantly more expensive than my usual 3 euro choice, the duty-free price was 20 euros. But as women we tend to indulge on perfume, so why not deodorant too? Isn't that just as important, possibly more important? Lancome is such an elegant brand – and while I never would have thought 'elegant' to be a word to describe deoderant, that is what it exactly is. Deliciously lightly scented – so subtle, which I love – and strong enough for even my most intense sweating situations (which usually involve blind dates, blogger events in Paris where I feel like everyone hates me or during those bouts anxiety I seem to swallow whole)
Agent Provocateur Fatale Perfume
This smells so sexy – but not in that overpowering, promiscuous way. A ladylike sort of sexiness, which if you ask me, seems pretty hard to find these days. I adore the bottle too – an important factor in perfume, as I like mine to sit pretty on my vanity. It's a gardenia, floral scent spiced up with a touch of something I guess I will call bold musk – not too girly but very womanly. Spicy and just a little sweet – perfect to spray over all the slightly sheer collared shirts I am enjoying wearing these days.
Jurlique Rose Body Oil
Oh, I just adore oils – as a slightly masochistic body brusher/exfoliator (can that be a thing?!) – it is essential to hydrate my skin afterwards. So many body lotions are just too cloying for my liking, oils are just lighter and more hydrating, to me at least . And this one, you can literally feel soak into your skin – plus rose is one of my most loved scents. Jurlique is a brand I am really loving these days, the British version of Caudalie – and just as precious. All organic, all natural – fuss free and so easy. I am a fan.
---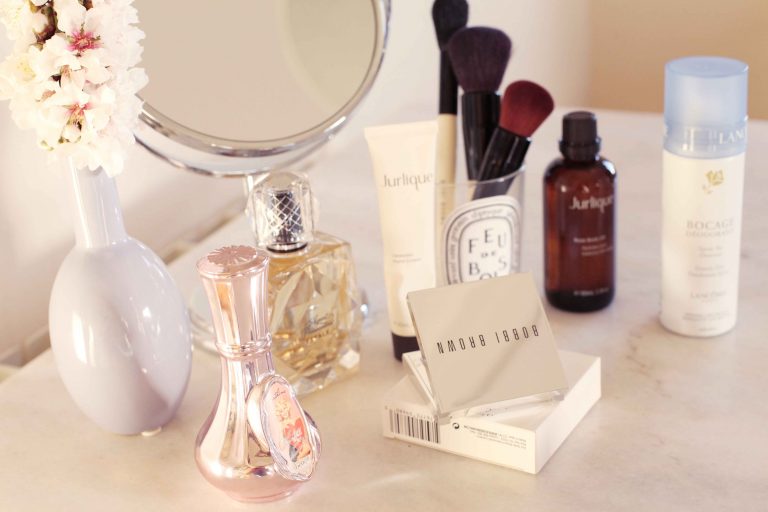 ---
Bobbi Brown Brightening Finishing Powder in Nude
I recently was invited by Bobbi Brown to a private makeup class with their top Paris makeup artist. I felt like I was back in school, so much to learn and I was in utter awe of all the information I walked away with. The makeup artist recommended this powder to me – I was dubious, it looked so glittery and just too rosy for the face I usually feel comfortable in. But when she applied it to my face, just a subtle quick brush on each cheekbone – I knew I needed to have it. All it takes is a tiny little bit for instant illumination – not rosy at all, but a real healthy glow I think looks so lovely on my skin. I absolutely refuse to get involved in whatever contouring is, so this powder, on top of my bronzer is as far as I will go – and really all I need.
Benefit's Bathina Shower Body Mist
I've used Benefit long enough to feel nostalgic about the Bathina scent, being one I used all through University – in the form of that body balm they used to make. So when their lovely PR gifted me this one, the smell brought me back, way way back. As you might know from my last beauty post, I am fanatic about showering. It's a real joy , an activity I am probably overly enthusiastic about. But a scent created especially for after showering and just before bed? A scent created for my favourite two activities in one? How could I not love this one? The smell, is one I will always adore – but spritzing this after my shower, is a whole new and beautiful Bathina era in my life.
Jurlique Lavender Hand Cream
My hands are probably one of my least favourite parts of my body, small and chubby with little kid like nails that refuse to grow despite how healthy I eat. For years, I hid them underneath an expensive acrylic nail habit – and wow, that did them so much damage. It's been about a year since my last fake nails, and I am determined to never get them again, despite how unhappy I am with my nails. With that said, I am trying all kinds of things to improve my hand situation, and that includes moisturizing. This Jurlique little tube of Lavender is wonderful – and I'll toss it in my bag whenever I travel – as I tend to become so dehydrated on all the planes I seem to forever be getting on. It's light and not greasy – I can still use my iphone without it slipping out of my hands – but powerful enough to keep my hands softer than they were before.
bobbi brown makeup brushes
During my makeup class with Bobbi Brown, I learnt everything I need to know about brushes – and with knowledge comes power, so I parted ways with some cash for these 3 new ones: Full Coverage Face Brush – short, tightly packed bristles make foundation such a breeze to apply – and I use far less too, always a bonus as good foundation is expensive. Sheer Powder Brush: lightweight and subtle, perfect for the highlighting powder mentioned above – just two quick strokes, one on each cheek and I'm done (as well as quite literally, dusted) Bronzer Brush: Big, chunky, fat and sturdy, the ideal size for applying the ridiculous amount of bronzer I like to wear.
---