I've always adored Selfridges, I remember living in London and aimlessly wandering around their beautiful floors, dreaming of a day I had more than 5 pounds to my name so I could saunter out with one of their signature shopping bags swinging from my shoulder. A few years ago I wore a collection of their dresses by Diane Von Furstenberg for christmas : it was a true 'pinch me' moment – the way they arrived folded in tissue paper in the Selfridges box (which I still have) felt like an event all in itself.. I even accidentally covered a park in huge gold confetti while shooting the dresses, a photo I dreamt up on a whim and then felt the urge to make a reality. So, yes I do love Selfridges, for those designer dresses I wore but mostly for the dreams I conjured up when I was a broke student on her internship lunch break, gasping at all the beautiful things I couldn't afford but resolutely decided that I one day would.
And so, after many months of deliberation, I decided to invest in a dress. Just one, that would defy the seasons and could be worn all year long. 'A sophisticated lady dress' I called it in my head, one that could be worn with leather pumps in Paris as easily as espadrilles on a boat on Lake Como. And after buying my camel Chanel, I knew it had to be white. I think we can all agree here, that it absolutely had to be white. I listened to my younger intern self and clicked onto Selfridges, browsed their mini dresses until I stumbled upon this crisp, white Valentino dress of dreams. So timeless, so elegant and absolutely in tribute to Audrey Hepburn, I knew it was the one. I've always admired Valentino clothing for it's wonderfully stubborn timelessness. I envisioned myself too wearing this at 75 paired with obnoixously large pearl earrings and the exact same Chanel bag I'm wearing here….hopefully at that age, on a boat I bought on Lake Como. It will never cease to amaze me… the abundance of narratives a item of clothing can project, and that's how I knew this had to be another present to myself : it's a dress I'll wear forever.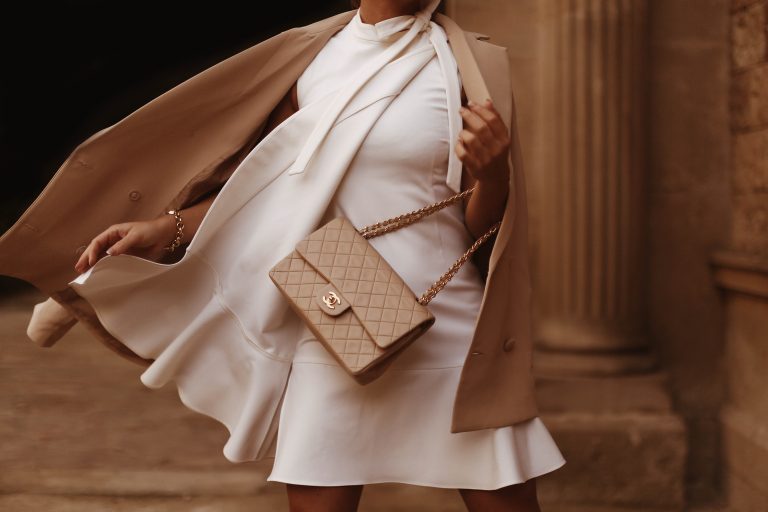 And yes, it did arrive in another one of those deliciously large Selfridges boxes and yes the dress is hanging on the door of my wardobe in the place of honour she so deserves. I feel like the woman I've always wanted to become in this dress. It's a gift many years in the making, of dreaming, of working hard and remembering that what I wanted was mine for the taking, it was just a matter of time. It's a dress of a hundred broke girl fantasies finally coming to fruition. It's the dress of a lady and a lady is who I am undoubtedly becoming.