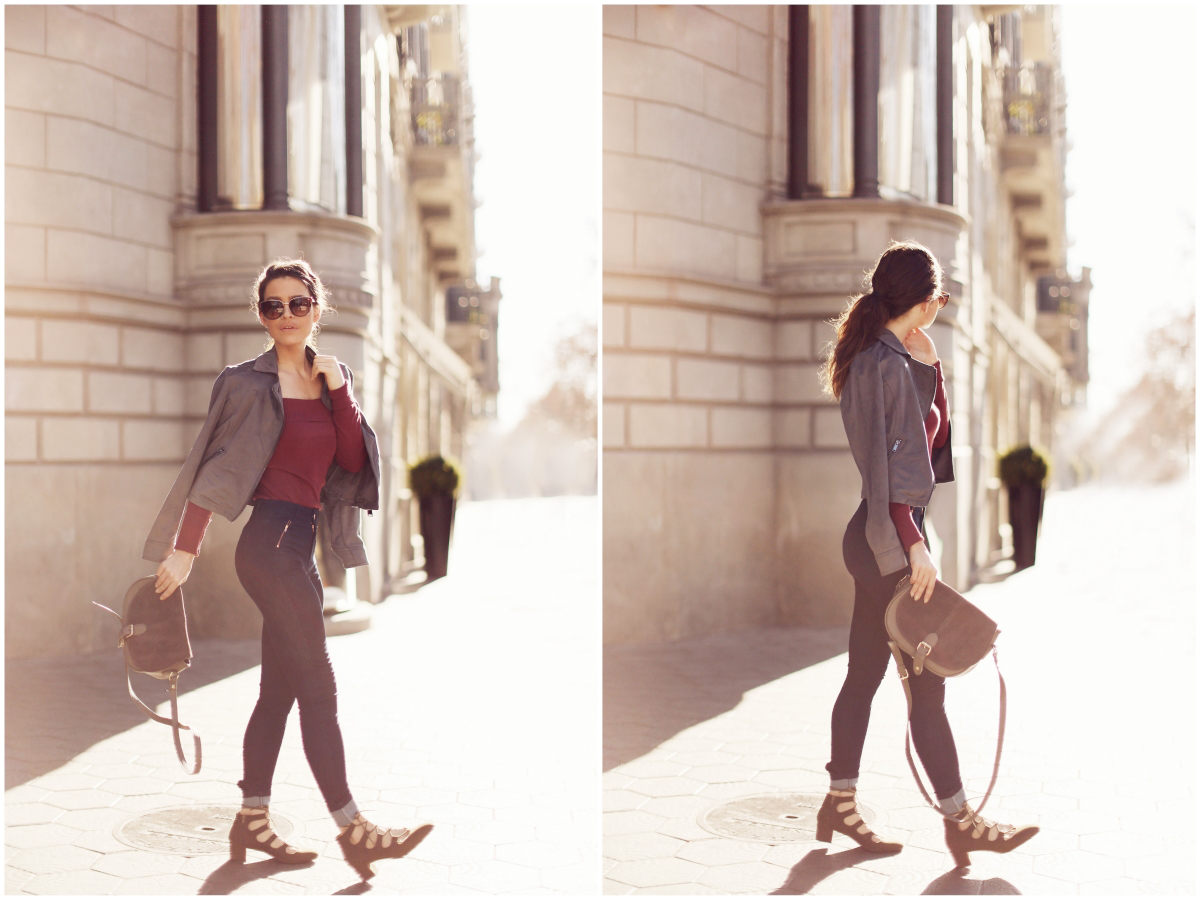 ---
WHAT I'M WEARING: OASIS GREY SUEDETTE BIKER JACKET, OASIS RED BARDOT KNIT TOP, OASIS HIGH WAISTED BIKER SKINNY JEANS & OASIS GREY SADDLE BAG
---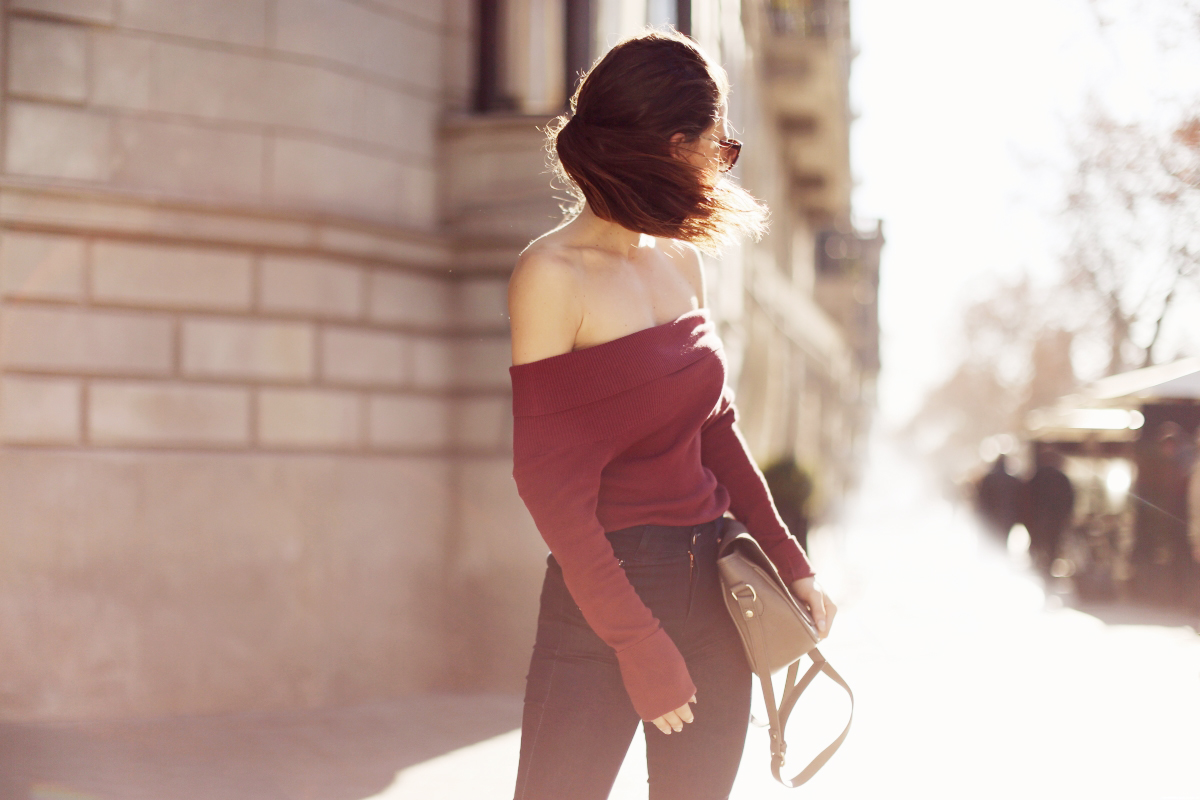 Another day, another squeeze into a pair of high waisted jeans to wear through the sunshine down Paseo de Gracia where we prefer to shoot. Another day in a series of many days now that come and go and I go home to bed and think how lucky I am to be here. I remember a few years ago, I'd come to see my brothers in Barcelona, jumping a flight from Paris with a suitcase filled with stories from the city I believed to be the best in the world. I'd wander around the same streets I do now but with different eyes, smugly wondering why my siblings chose here instead of where I lived. Some of my friends, they are and always were meant to be Paris lifers, they carved and dug their way to a forever home in the city in a way I couldn't muster. It's a hard place to live France, as an expat especially and being a fickle girl I got tired, sighed and in two days at the end of of 2013, I packed up my tiny room in Pigalle and returned to Spain.
Now that's not to say I don't love Paris, oh I do and I always, always will. I threw roots down that keep me close enough to call it a second home. But Barcelona, I feel safe here. I can speak Spanish, the men don't wear those strange skinny scarves and the sunshine, yes it shines almost all the time. I am so happy to be here. I like the 1 euro coffees at the weird corner cafes, the faces I now call friends and the house I carefully curated where everything is white and grey and pretty. The beach is here and with it runs through the sand on Sundays and we are all excited for summer over here, when the city really becomes what it is. My world doesn't fall apart on a weekly basis like it did in Paris, there is a balance and less partying and I feel like this could be home for a good while.
I'm surprised by how much I adore it here and I never would have known if I hadn't just packed up and moved. I hope you feel this way about the place you call home and if you don't, I hope you can collect enough courage in your bones to move. I will always move. There are so many places I want to see for longer than a few days. I want to soak them up and I want them to become part of who I am. It's a beautiful way to grow. My boyfriend went to get a haircut the other day, the same man has been cutting his hair since he was 4 years old. I cannot even imagine that sort of stability in my life. It felt so alien to me. In a way it must be wonderfully nice. To have a home like that and all the people around in both the big and small ways. I have never had that, there is no true attachment to one sole place for me. I don't think there ever will be. It can get a little lonely always being the outsider, the newcomer, the strange-too-enthusiastic American in the glasses. But it's all I've ever known; embracing new cultures and finding ways to call them my own.
My father was the son of a diplomat; he moved incessantly his entire life. It seemed to stick and he raised me in quite the same way. So here I am, a nomad. I search out a corner I like, find a roof and stick around until my soul says its time to go. But Barcelona feels like home in ways I never thought it could, but then again that's for now. I cannot say how I'll feel in a year or even 3 months from now. I believed I'd live in Paris forever, but that's the thing with love, it blinds us into the belief of permanence. And I've fallen in love with more places than I ever have men. I think it's important to place importance on this love, a love for the place we exist. And, as I said, if the love isn't there, I hope you leave. I hope you move on and find yourself somewhere entirely new. I hope you find a house you think is pretty and find new faces to call friends and enjoy a different kind of weather and new sorts of food. It's a beautiful thing to wander and go from lost to found and back again and all over and everywhere you ever wanted to go across this entire big Earth. So for now, Barcelona, but later, who knows? I have infinite courage in my bones to move. I hope you do too, but only if you want to. Some of us, we stick to certain places, but you see, I just have none of this glue, so I'll always move.