---
---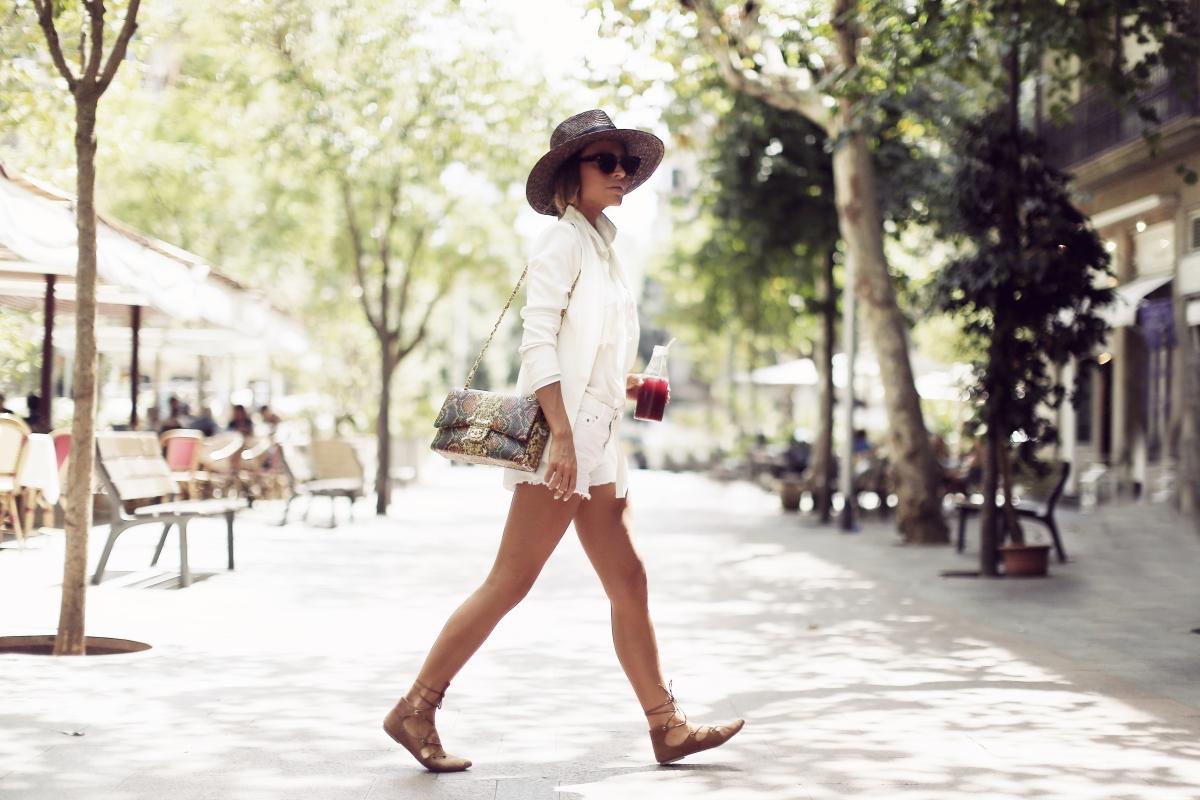 That's a beetroot and ginger juice, in my hand, in a glass bottle from the juice place below my house. If you were to open a cabinet in my kitchen, you'd find many of these glasses bottles, an indication that I spend too much money on cold pressed cravings. It's an embarrassment really, especially when I have a juicer at home, which I use everyday too but a once daily intake of liquid vegetables doesn't feel enough in this heat that makes me forget to eat. Anyway, my liquid consumption from water to coffee to juice is a narrative long enough to fill a book but not worthy of such length because that would be dull. I could however talk about this hat, which affirmatively is 'my hat' of summer 2016, last year it was a beige wide fedora by Lack of Color, perhaps you remember? I always have one, a hat I absolutely love and place atop my head too often for each and every of the four seasons. And the layers of white? I bought them all on a whim at Primark ; I do like their denim shorts, cheaper than a pizza and capable of slipping over my hips and covering my entire derriere. As for this chiffon loose blouse? I have many of the same one in different shades.
I love how they 'accidentally' unbutton to show a peek of cleavage or so I like to claim whenever someone tells me my shirt is undone. As for the Chanel, I think the juices have me on some sort of health high because I've added too much double C to my collection as of late, they are all secondhand which I genuinely believe to be the better way of investing in luxury pieces. It's so much cheaper and I'd ideally like them all hanging in an Ibiza mansion one day, so I overstep the boutique experience and go for something pre-loved in hopes of moving into my 8 bedroom island palace a little sooner. My shoes are Aquazzura, whoops just kidding, they are from Primark and more comfortable than the expensive version which I once tried on out of curiosity. I was instantly gobsmacked in disbelief that people pay triple digits for such a torturous fitting shoe. So often, in my experience, the affordable option is the superior choice.
Not the most chic thing to say, but I'd rather be real than chic, I still have no idea what that adjective exactly even means, it's thrown around so widely and so loosely, I've begun to believe it means whatever someone wants it to mean. So here's to Primark, here's to Chanel, but most importantly, here's to wearing them both at once. And being chic or not being chic, or whatever and however you want. And if you were wondering, yes I did spill that deep red beetroot juice all over my very, very white outfit. I knew it was going to happen as soon as I had the bottle in my hand. Sigh, whatever the word means, I am surely so far from chic.