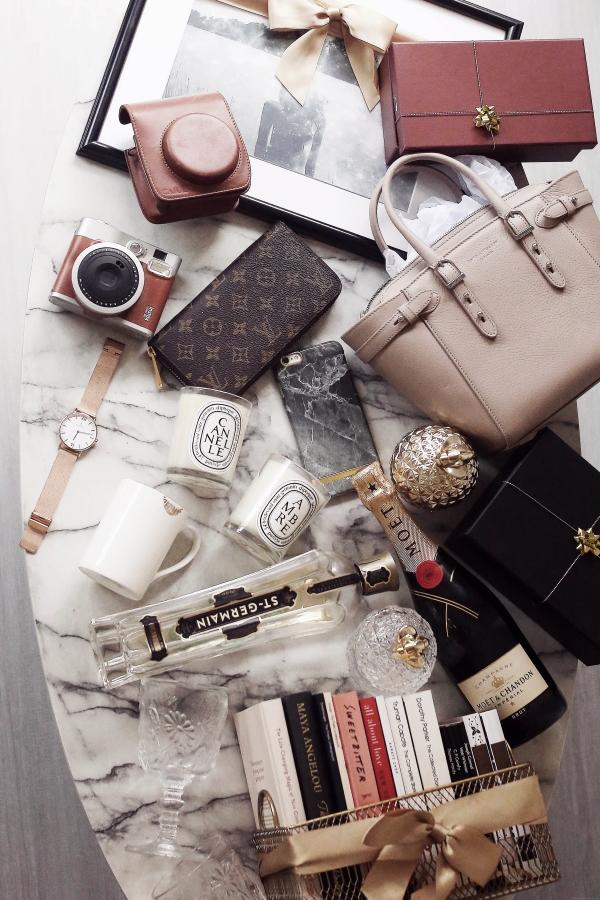 my gift guide for the sophisticated woman
Sophistication is a trait I aspire to, and while I am sure there are many lovely gifts for sophisticated gentlemen, I am a woman with a fashion blog and so the only gifting advice I can truly offer is that from a feminine perspective. I've already confessed to considering expensive candles for my very boyish brothers, a sure indication that shopping for men is by no means my forte. So with that in mind, I wanted to curate a collection of gift ideas for the women in your life. The products here are all things I own and love, they are less than 600 euros and I do believe they will make refined choices for underneath the tree. More crucially I tried to choose things that all women of any age will enjoy, I suppose in my humble shopping opinion, they are classics. From my favourite bottles to a basket of books, a framed print and even, a dog – yes Biba is included in this gift guide, not so much as a thing, but as the biggest joy you can give someone . But if a canine commitment is one step too grand, there are plenty of other things here for Christmas.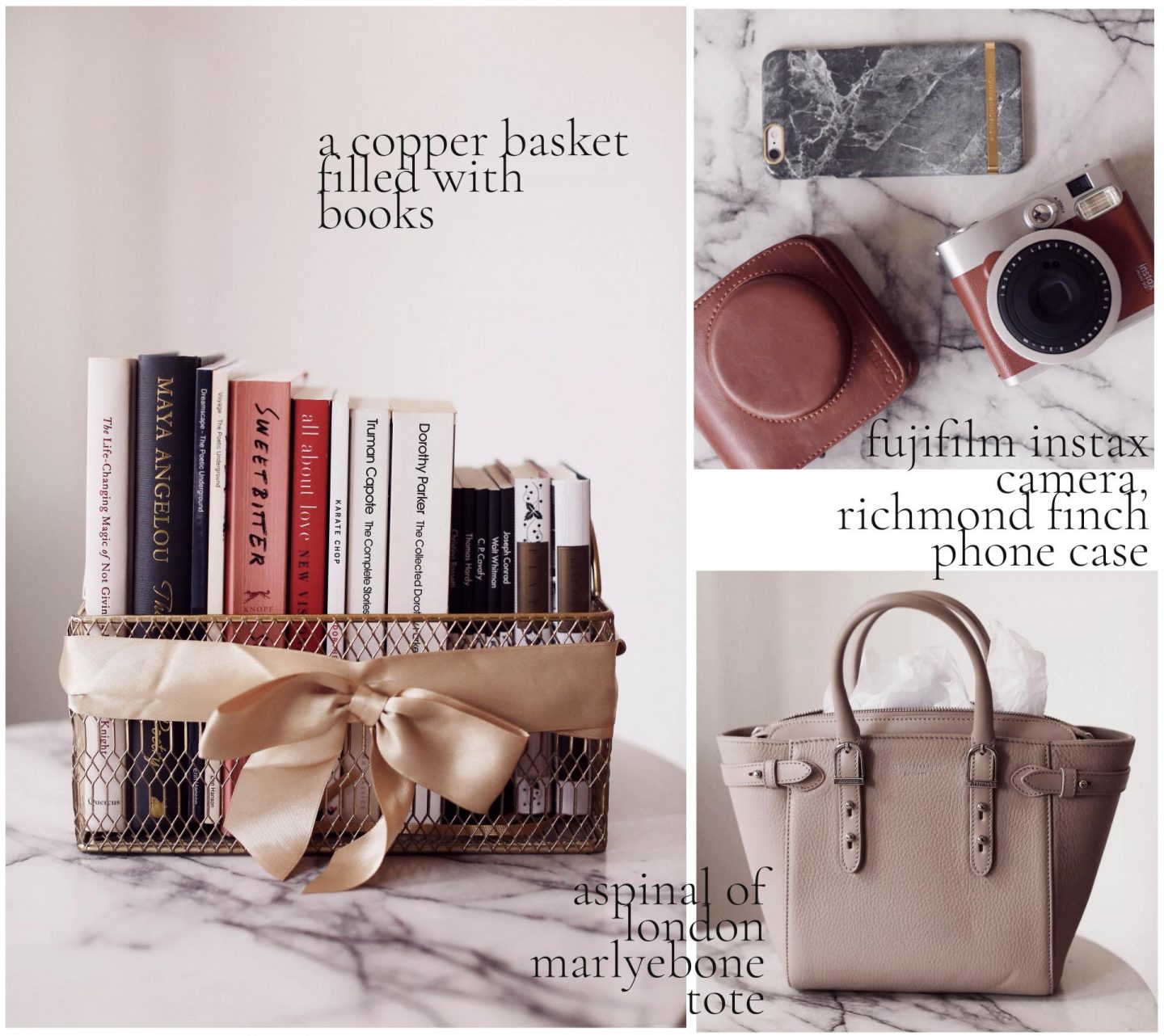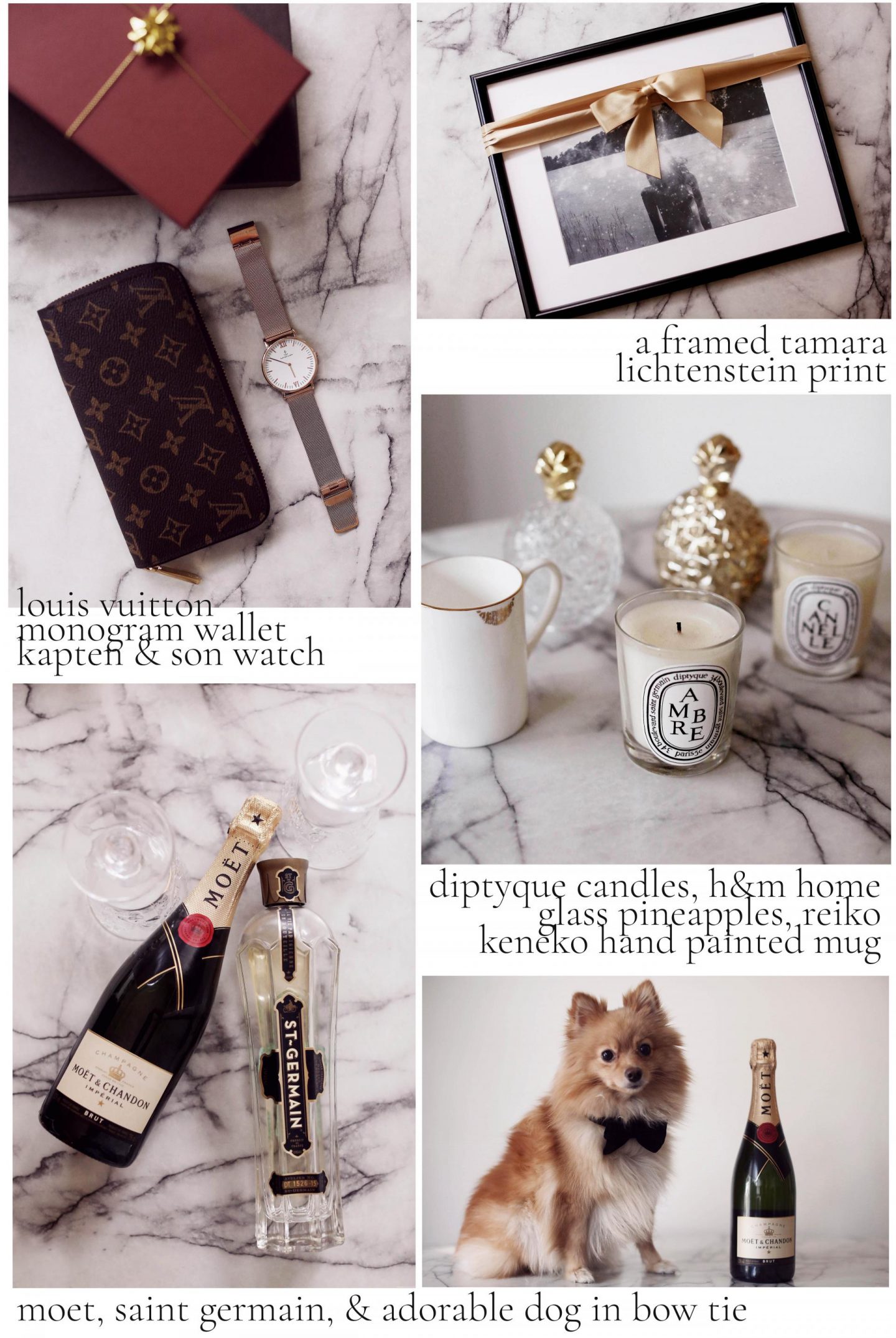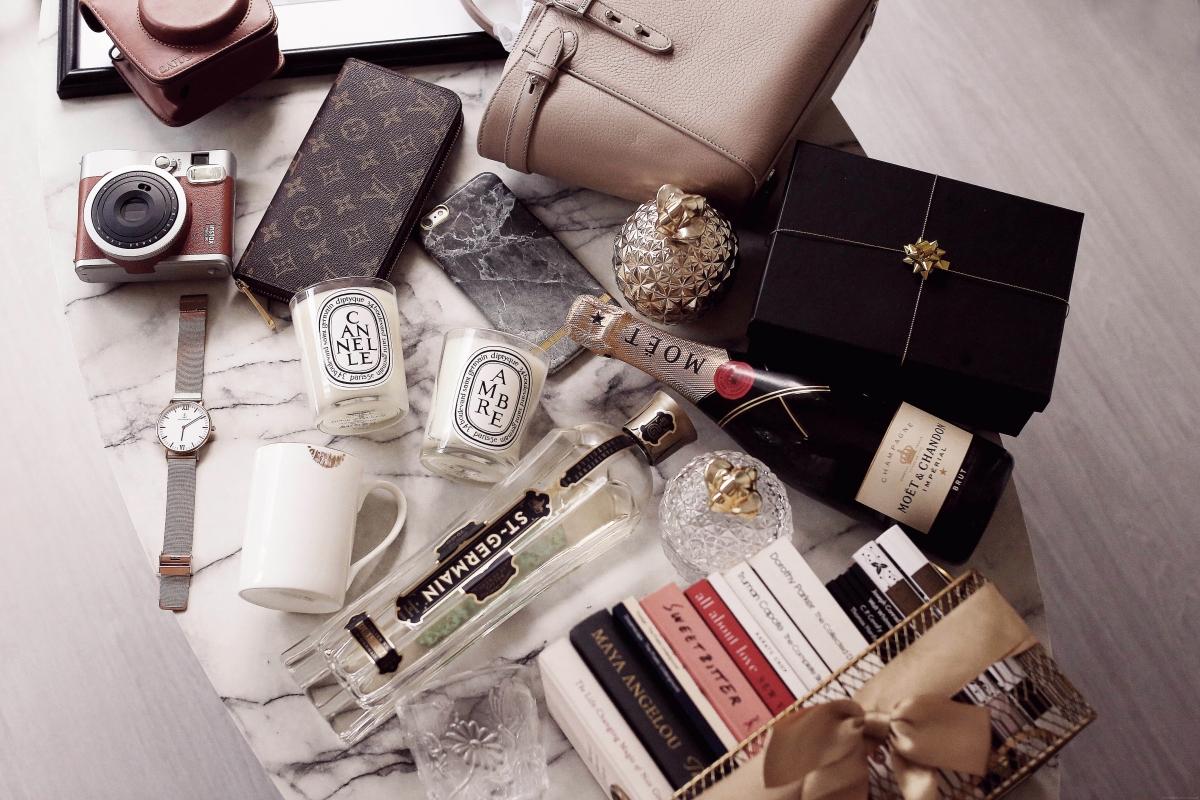 There is still ample time for Christmas shopping, I am mystified as to why the streets are crammed with frantic people on only December 10th but for your benefit, everything included here can be purchased online, which brings me to my first piece of holiday shopping advice. Stay at home, eat a box of chocolates on the sofa and buy your gifts via a screen. The stress of struggling through the streets and stores really depletes the festive spirit. But onto to the gifts themselves, I will now embark on a ramble of sorts, filled with links to specific pieces alongside sturdy recommendations…Should you like me, be charmed by the idea of a copper basket filled with books, I suggest this one or perhaps a round gold style from H&M. As for the books , it comes down to personal taste, but darlings like Dorothy Parker or Maya Anglelou are always a win. The same goes for any book of published by Everyman's Library, they are as decorative as they are soulful. An instant camera is a thing many would enjoy having but never get around to buying, the vintage version of the Fujifilm Instax is my preferred choice. On a gadget note, Richmond & Finch are the classiest with their luxe iphone cases, there are many beautiful ones but this grey dappled marble is by far the best. Aspinal will always be a traditional gift for me, I have always given my mother a leather something by the brand, this year's choice is the smaller marlyebone tote in soft taupe pebble. Anything monogrammed Louis Vuitton is a solid win for me, the handbags are painfully expensive so if you aren't looking to spend a month's rent, their classic zippy wallet is a sophisticated alternative. I had to include a timepiece, one we could all as women wear and one that been on my wrist for months now, Kapten & Son's gold mesh watch, which comes packaged in the most wonderful box. Tamara Lichtenstein is perhaps my favourite photographer ever, I'd suggest skipping the trite prints everyone seems to buy and invest in one of her photos instead for a more original present. Her print store is filled with beautiful options, which you can then frame affordably with a quick trip to Ikea. As for homewares, I had to include Diptyque, the best candles in the world and universally, a special something most women will adore. Amber and Cannelle are my top choices but I enthusiastically recommend them all, including their perfumes and room sprays. For the coffee lover, the ceramic designer, Reiko Kaneko hand paints the most curious ceramics, her lip tease mug is the one included here, I'd pair this with a luxury box of tea or ground coffee. H&M offer glass pineapple boxes that sit so pretty on my coffee table, I'd fill them with chocolates before wrapping as an extra cute touch. As for bottles, Moet and Saint Germain are my traditional Christmas tastes, both in the mid-price range but exquisite in flavour and in packaging. And finally, my little Biba, a reminder that there are hundreds of lovable canines eager to be adopted all over the world – a pet is the most magical, most memorable and undeniably most special gift to give on Christmas. Velvet bow tie is optional but forcefully and festively endorsed.