Our Gran Canaria Wellness Trip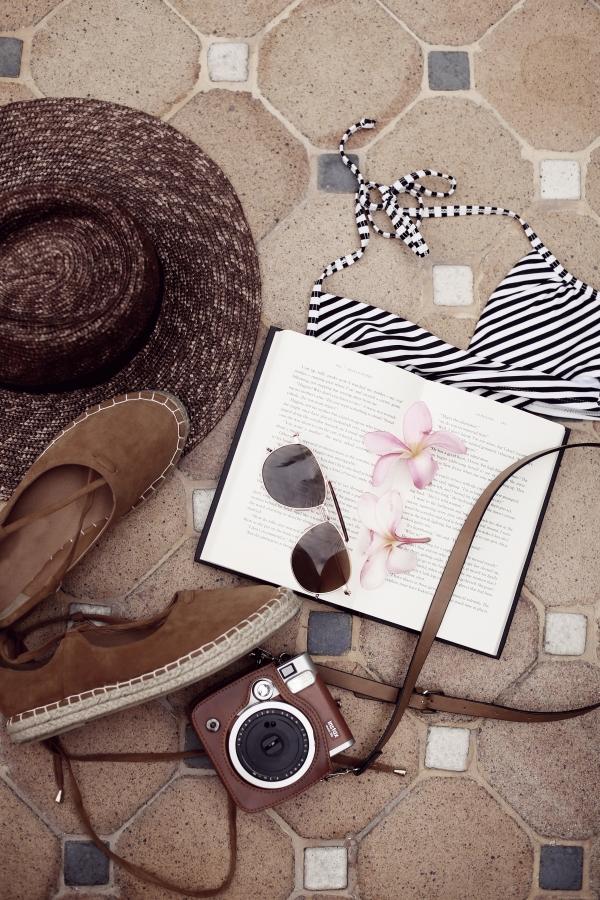 A few weeks ago, Marta, my brand manager but also my incredible friend, arranged a trip for us alongside GC Wellness, a spa establishment based in Gran Canaria who organize luxury treatments across the many wonderful hotels on the island. They compiled an intinerary for us with the sole purpose of relaxation and wellness. June was a stressful month for me, my work and social schedules were collapsing into one another and I was frenzied for 30 days straight, so this trip arrived at just the right time. Barcelona too was heating up and with it, the waves of tourists, I needed, in fact no, I required an escape from the city. And what better place than Spain's furtherest point, neighbouring the coast of Africa? I said why not, packed only a few hours prior to the flight and off we went for 3 days that were as calming and wonderful as a Sunday nap. We ate, we wiled hours away at spas and pools and enjoyed all the calmer pursuits that Spainish island life has to offer. Gran Canaria is a far more peaceful environment than the likes of Ibiza or Mallorca, and I salute them for preserving this tranquility that can so often be disrupted by the tourism industry. It is genuinely so serene, making it the perfect spot for a repose from real life.
---
the hotel: cordial mogan playa
---

We were hosted at the Hotel Cordial Mogan Playa, a beautiful resort tucked between ocean and mountains. Our room had it's own private garden and terrace, their pools too are enormous and that deep blue that will always remind me of vacation. However, what really resonated with me was the resort's incredible lusciousness. Unusual flowers, plants and palms fill every open space, there was even a cacti garden. It took far longer than it should have to move around the resort as I was very enthusiastically stopping to marvel and photograph whatever plant I came across. As a city dweller and one that misses nature, this was an invigorating repose from urban life. My keen interest in the plant-life was noticed and the hotel gifted us a book outlining every speciman of plant and flower thriving at the resort. The inner dork in me adored this. We ate incredibly well too, our breakfasts followed my usual routine of seeds, oats, too much coffee but by lunch we were offered infinite seeming courses which by dinner were accompanied by wine pairings and delicious desserts, tiny enough to remain guilt free. The service at the Hotel Cordial Mogan Playa is exceptional, every member of staff was charming, smiling and so keen to help. Both Marta and I were so impressed by this standard of service, which sadly still remains rather untypical to the tourism industry in Spain. I would stay here again in a heartbeat, and their rates are both reasonable but also include meals, which keeps everything easier, less-fuss free. One of the most stressful components of travelling for me is figuring how where to ea, but the cuisine here is varied and good.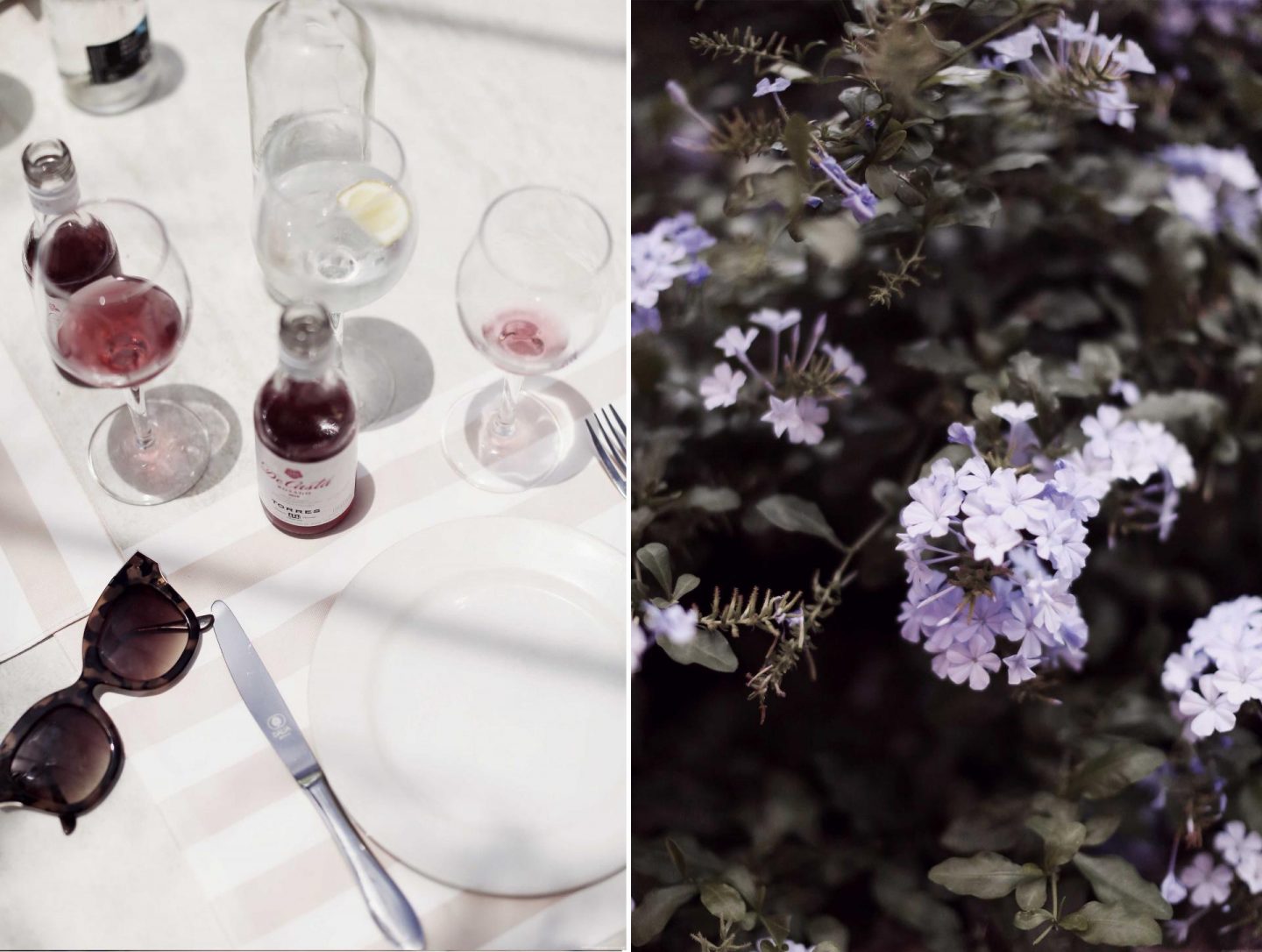 ---
the gran canaria spa experience
---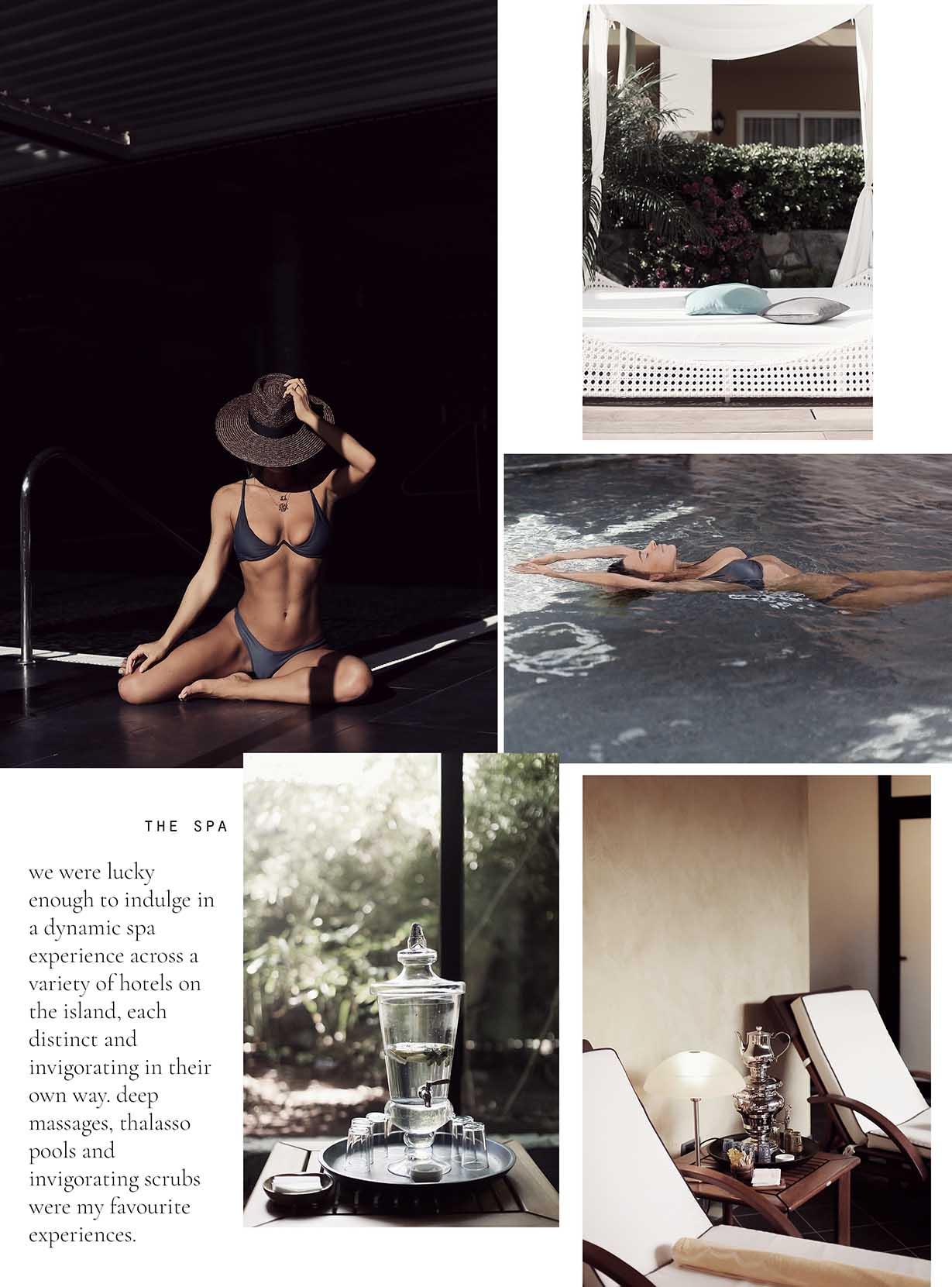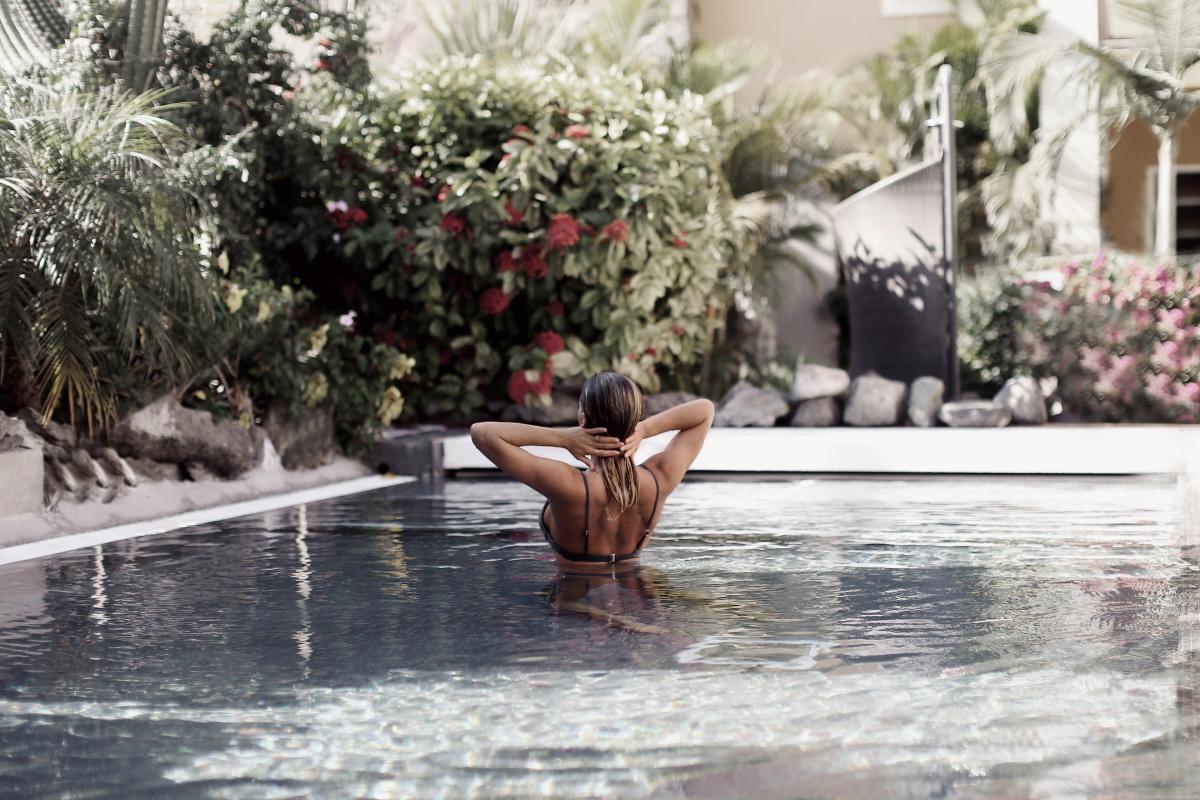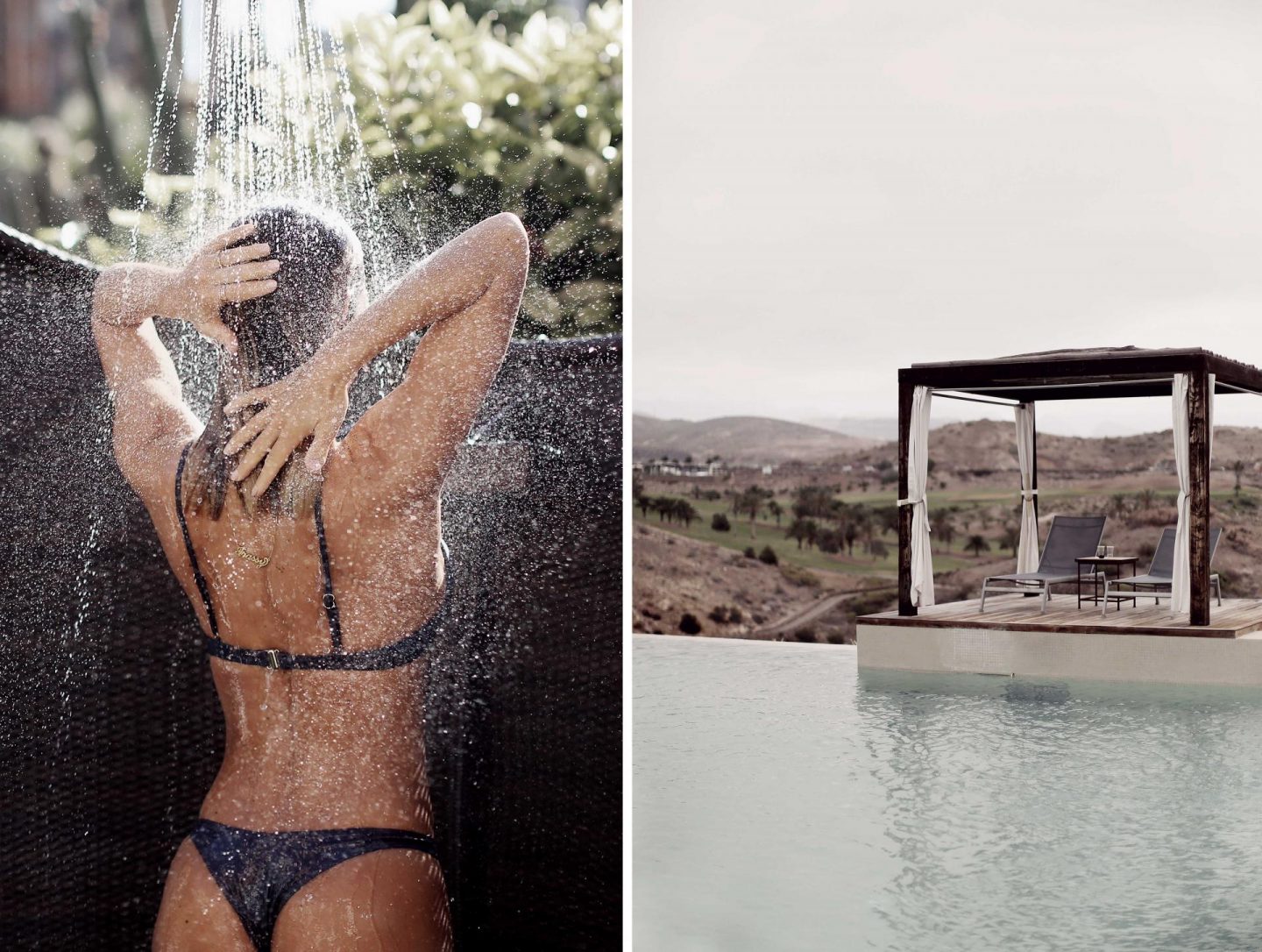 Our itinerary was spa-focused, which had us happily cruising around the island in our rental car to explore some of the other wonderful hotels and their respective spa facilities. Our first stop was Gloria Palace Thalasso Hotel, home to a wonderful rooftop pool with views that stretch all the way through the palms and down to the sea. We were able to experience their Thalassotherapy, this is a special kind of pool charged with minerals and saltwater, which invigorates and detoxes the skin. They were far more relaxing than I could have imagined. We had deep body scrubs prior to the thalassotherapy; and genuinely, my skin has never felt so soft and refreshed. Our second visit was to the Sheraton Salobre Golf Resort, certainly the most modern hotel on the island and perhaps my personal favourite. It was unexpectedly beautiful to be surrounded entirely by the deep green of their golf course, Gran Canaria is naturally a very arid environment, so the contrast between the golf grass and the dark mountains was a stunning sight. They also have an incredible infinity pool and to my delight, the most curious pink river, which I obviously photographed from every angle. Finally our third hotel spa visit was the Seaside Palm Beach, where I ate mountains of the most delicious muesli followed by the best hot stone massage I've ever had. It was a very well-rounded, diverse spa experience, thanks to GC Wellness, and I loved enjoying the various locations alongside the various treatments. Their services can all be booked via their website, it's a relaxing way to discover the different sides of Gran Canaria and certainly preferable to guided group tours etc. I'm not much a fan of that sort of tourism, so this was the ideal way to see the island.
---
the island
---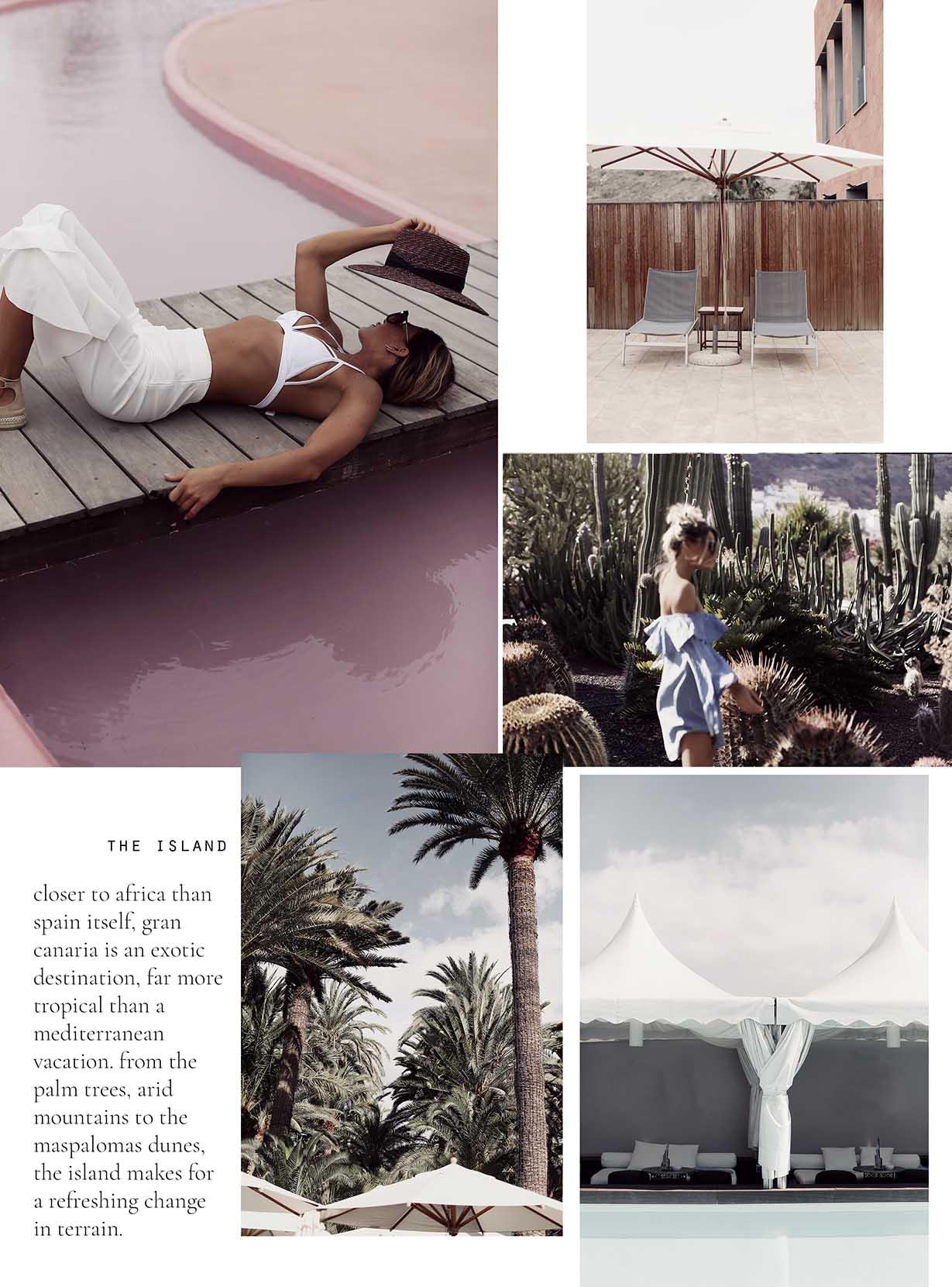 I have always had an affinity for islands, the idea of being surrounded by water from all sides is incredibly appealling to me, one day I plan to move to an island. Gran Canaria is very exotic, it's landscape feels very adventurous to me, tropical in a way that the peninsula of Spain isn't. Perhaps this is because I've called the shores of the mediterranean home for most of my life and yet, it is indeed much different from Spain. The island is small but packs a lot in terrain-wise: arid, western-movie-like mountains, an enomorous moody ocean to the dunes of Maspalomas dotted by a thick abundance of palm trees. It's a place rich in variety and with some of the most stable weather in all of Europe, temperatures balance out at around 25 degrees all year, which means a taste of summer regardless of the season. I certainly plan to go back this winter for a slice of the sunshine I so sorely miss in the colder Barcelona months. It's a beautiful, tranquil spot, mostly left unmarked and wide open. Both the vast empty space and the silence that cloaks the island are beautifully peaceful.