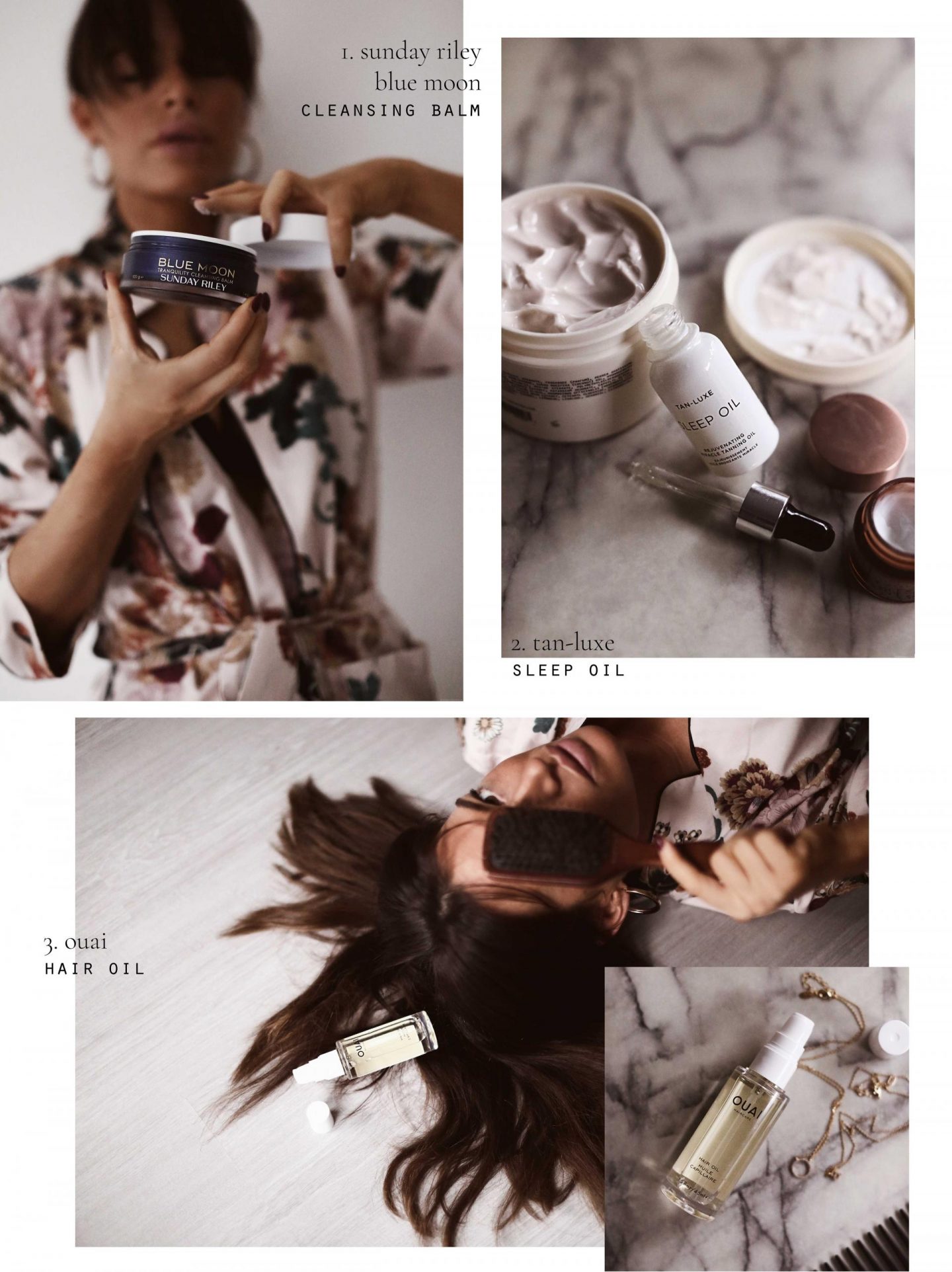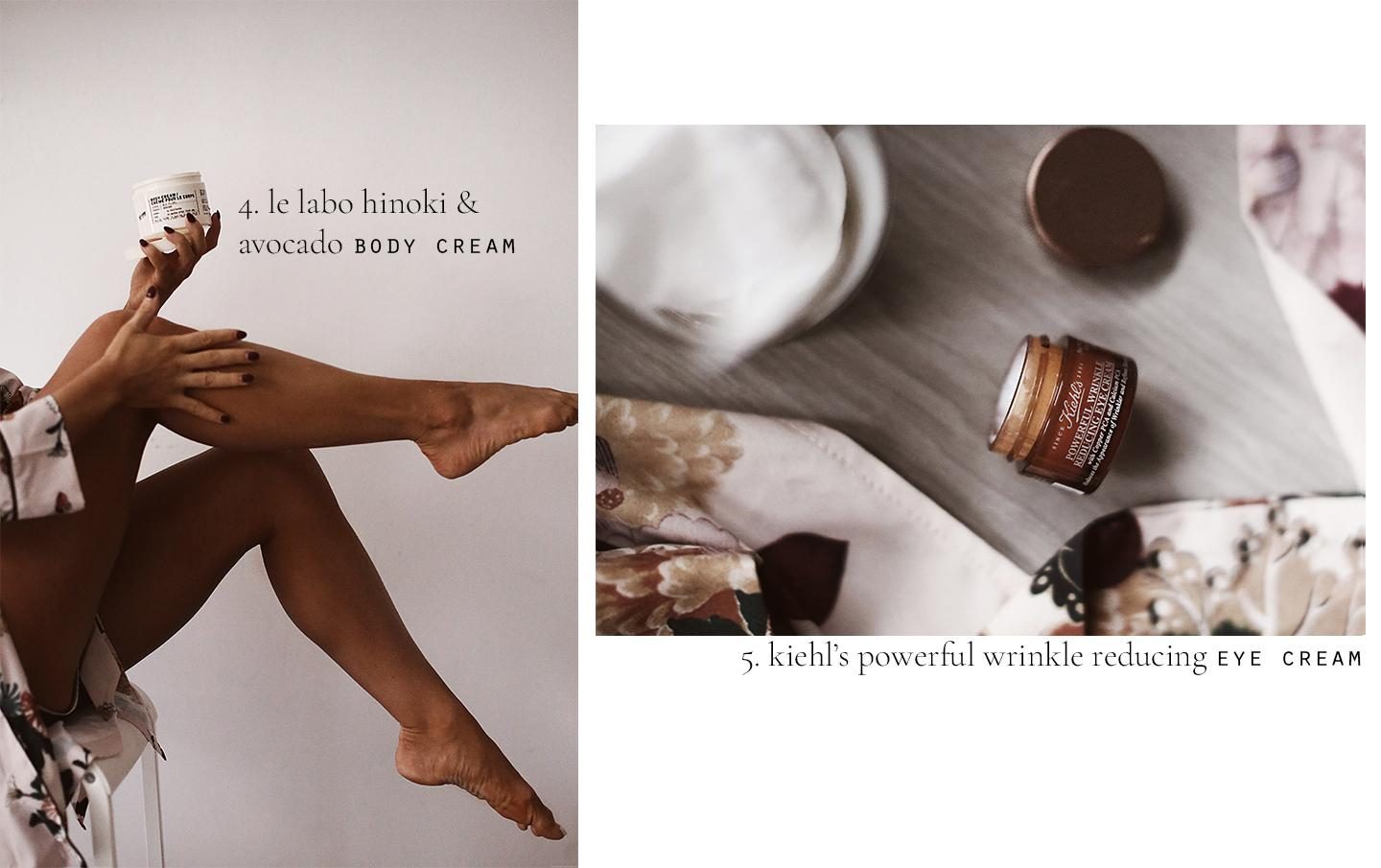 ---
Up next in my beauty segment: five products I love, so much so I've been telling my mother and fellow beauty-fanatic friends about them on the phone. Before I begin gushing, I'd like to add in the required disclaimer: I purchased all of these with my own money, painfully so, most of them hail from Net a Porter, where sadly nothing in the beauty section seems less than 40 euros. Saying that, they are worth the money. You've definitely seen some of these products making the rounds on my instagram stories too, but they needed a larger, at length feature. So listen up.
[show_shopthepost_widget id="2890955″]
---
1. sunday riley blue moon cleansing balm :
I adore a thick, good cleansing balm, especially after a night out or whenever I opt for heavy eye makeup. A generous scoop of this melts every inch of product off my face. Unlike the Bobbi Brown balm I used for years, this one's sugar-base gives it a grainy texture, which really works to completely scrub makeup from pores. It's also loaded with essential oils to hydrate the skin. Only downside? This is expensive. 54 euros feels like a lot to me, but I will definitely re-buy. The brand also suggests using this as 20 minute hydrating mask which I am yet to try, but I do love products with dual-functions.
2. tan luxe sleep oil:
Second up is the HERO of this post. I am so impressed with Tan Luxe, I've been a self-tanner for a decade now and this product trumps them all. I apply 4-5 drops to my face every night before my moisturizing regime and by morning, I have the most wonderful, natural glow. Hnestly, I look like I spent an afternoon at the beach. It's chemical free too! But best of all, this tanner also doubles as a hydrating oil. Even right after applying, I have a dewy complexion. I'm obsessed and I will never not have this product on my bathroom sink. It is amazing. If you are obsessive about tanned skin, go buy this. Right now.
3. ouai hair oil:
Ouai is somewhat of a blogger obsession, which always makes me suspicious. This is why I'm a little weary of Glossier. But then, I decided to do some research and read up on the brand's founder Jen Atkin who set out to create a simple, easy haircare brand for the busy women of this world. It appealed to me, so I invested in their oil but also their dry hair supplement pills (more on those in another post). Like every other blogger, I will confess, I LOVE the brand. The oil is light, only very subtly scented and I usually prefer to use it as an over-night mask, washing it off during my morning shower. It preps my hair for whatever heat I will apply that day in the form of styling but also it is working wonders for my very damaged, dry ends, which frizzed up terribly when I made the drastic transition from light blonde to dark brown a few weeks ago. The product is not cheap but so often the more affordable hair oils simply make my hair greasy rather than hydrating. I cannot emphasize just how light this product is, it almost feels like water.
4. le labo hinoki & avocado body cream:
Le Labo, quite like Diptyque is a large love of mine. Anything scented by both brands feels like a hug from a very sexy man. I wore Le Labo's Rose perfume until the bottle quickly ran dry, so I decided to try one of their body creams as I had run out of all my other options underneath the sink. This is beautifully thick, rich and with a scent unlike anything else I've ever experienced. Le Labo always win for originality when it comes to fragrance. It's such a soothing ritual to apply this, usually after a shower and always after leg day at the gym when my limbs almost feel bruised with muscle pain.
5. kiehl's powerful wrinkle reducing eye cream:
What a product name! The words 'powerful' and 'reducing' sold me on this, well that and the enthusiastic sales lady at the Kiehl's boutique. I decided to try this one as I'd run out but mostly because I cannot currently afford La Mer's version, which I am dying to try! I have to say though, I'm not dissapointed, I never ever have been with Kiehl's. This little pot of magic is infused with calcium, caffeine and copper PCA – all of which help to stabilize collagen and elastin fibers in the skin. It stings a little when applied and it does make my under-eye area feel very tight but by morning, I look fresher than I will all day. This is precisely why I apply it again in the morning underneath my CC cream, it keeps my concealer from creasing too. If you're looking for a mid-range priced eye cream, I'd say this is your best bet.